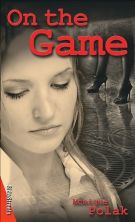 Publisher: James Lorimer, 2005
There's nothing more exciting than being young and in love – especially when the object of your affection is older and showers you with gifts and attention. But when Yolande's new boyfriend, Etienne, asks her to go on a date with another guy, it becomes clear that his love comes at a terrible price.
Inspired by true events, On the Game follows one ordinary girl on an extraordinary journey into the dark world of teenage prostitution.
-- "Polak's cautionary work is hauntingly convincing." – Montreal Review of Books
-- "Polak has created a story that is entrenched with the reality surrounding teenagers today....On the Game is a story for every teenager, both male and female. For the male, the novel teaches the lesson of the need to take care of other's feelings, and for the female, it shows that it is sometimes necessary to ask for help if you do not think you can say no. A book that, once it is started, is difficult to put down." -- CM: Canadian Review of Materials