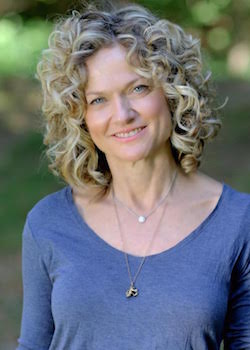 It's a good thing Monique Polak has a lot of energy, because she does a lot of stuff. In addition to teaching English and Humanities at Marianopolis College in Montreal, Monique is an active freelance journalist whose work appears frequently in The Montreal Gazette and in Postmedia newspapers across the country. In 2016, Monique was the CBC/Quebec Writers' Federation inaugural writer-in-residence. Monique has also been published in Maclean's Magazine.
But what Monique likes to do most of all is write for young adults. She is the author of 26 novels: Flip Turn (James Lorimer, 2004), No More Pranks (Orca, 2004); On the Game (James Lorimer, 2005); Home Invasion (Orca, 2005); All In (James Lorimer, 2006); Finding Elmo (Orca, 2007); Scarred (James Lorimer, 2007); 121 Express (Orca, 2008); What World Is Left (Orca, 2008); The Middle of Everywhere (Orca, 2009); Junkyard Dog (Orca, 2009);Miracleville (Orca, 2011); Pyro (Orca, 2012); So Much It Hurts (Orca, 2013); Straight Punch (Orca, 2014); Hate Mail (Orca, 2014); Learning the Ropes (Orca, 2015); Forensics Squad Unleashed (Orca, 2016); Leggings Revolt (Orca 2016), Bullies Rule Orca, 2017); Princess Angelica, Camp Catastrophe (Orca, 2018); Planet Grief (Orca, 2018) and most recently Princess Angelica, Part-Time Lion Trainer (Orca, 2019); The Taste of Rain (Orca, 2019); Room for One More (Kar-Ben, 2019) and most recently Princess Angelica, Junior Reporter (Orca, 2020). Monique is also the author of two non-fiction books for young readers: Passover: Festival of Freedom (Orca, 2016) and I Am a Feminist: Claiming the F-Word in Turbulent Times (Orca, 2019); as well as one board book Passover Family (Orca, 2018).
Monique is a three-time winner of the Quebec Writers' Federation Prize for Children's and YA Literature, recently renamed the QWF Janet Savage Blachford Prize for Children's and Young Adult Literature. She won the prize in 2014 for Hate Mail, the story of a boy reluctant to admit the new boy at his school -- a child with autism -- is his cousin. Monique also won the prize in 2009 for her historical novel What World Is Left, inspired by her mother's experience in a Nazi concentration camp. The American Library Association's publication, Booklist, gave What World Is Left a starred review, describing it as "heartbreaking" and "an important addition to the Holocaust curriculum. Monique recently won the prize again for her middle-grade historical novel Room for One More.
Click here to listen to an audio clip of Monique discussing and reading from What World Is Left. Or here to check out a cool new book trailer for What World Is Left.
Room for One More was nominated for the 2020 Geoffrey Bilson Award for Historical Fiction for Young People. Flip Turn, On the Game, All In, Finding Elmo, and Scarred were all selected by the Canadian Children's Book Centre for its Our Choice lists. Home Invasion was named a Popular Paperback by the American Library Association. All In was nominated for an Arthur Ellis crime-writing prize. Resource Links included Scarred on its Best Books for 2007 list.
Monique lives in Montreal, where many of her stories are set. In addition to writing and teaching, she enjoys cooking, jogging and puttering around her house. She has one grown daughter.