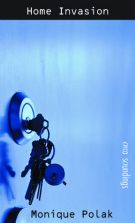 Publisher: Orca, 2005
Josh is less than thrilled that he has a new stepfather, and finds his personal habits – and his personality – irritating. When his mother leaves town, Josh is left to spend a week with Clay. Resenting his new living arrangements and his unorthodox home life, Josh finds himself drawn to the idea of a "regular" family and, on a whim, sneaks into a neighbour's house to see how others live.
When another opportunity arises to be a fly on the wall, Josh takes it and finds himself becoming bolder. Considering it a harmless pastime, Josh continues entering people's houses, until he is witness to a violent home invasion. Josh must use all his courage to save himself and bring the home invader to justice.
--"This is a short book with a lot going on; it will definitely appeal to YAs, especially reluctant readers." – KLIATT
--"Reluctant and struggling readers will enjoy this fast-paced story from the Orca Soundings series. Short chapters, easily accessible language, and a swiftly moving plot combine to make this book and the series popular with teens." -- VOYA