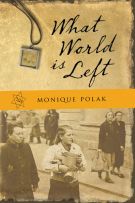 Publisher: Orca, 2008
The unthinkable has happened. Anneke and her family have been taken by train from their comfortable home in Holland to Theresienstadt, a "model" concentration camp in Czechoslovakia. But there is nothing model about bed bugs, starvation, disease, lice, hard labor and constant brutality. Despite the hunger, the anxiety and the pain, Anneke learns she is capable of doing whatever it takes to survive.
She also discovers that even the grayest of days can be brightened by a friend's smile or a lover's kiss. This novel was inspired by the experiences of Celien Spier, the author's mother. Until Monique Polak began doing the research for this book, her mother had never discussed her experience in Theresienstadt.
In addition to winning the 2009 Quebec Writers' Federation Prize for Children's and YA Literature, What World Is Left was nominated for the American Library Association's YALSA 2009 Best Book Award, named a 2009 TriState Book of Note, included on Booklist's 2008 Editor's Choice list, on Resource Links' Best Books for 2008, and nominated for the Manitoba Young Readers' Choice Award.
"...heartbreaking.... The details are unforgettable.... An important addition to the Holocaust curriculum" -- Booklist (American Library Association)
"a powerful story of growing up in unspeakable conditions, of human suffering, loss and, ultimately, hope" -- Halifax Chronicle Herald
"a candid look at a father's presumed collusion, a perspective rarely seen in YA literature about the Holocaust" -- Publishers Weekly
"The pressure and urgency of inspiration, not to mention tears and blood, is palpable everywhere in Montrealer Polak's fictionalized account of her mother's experience in the Theresienstadt concentration camp.... one of the best novels I read in 2008" -- Montreal Gazette
"'Polak's work ... takes the reader to the heart of the horror by creating a character whose vivid confusion, disbelief, and innocence are immediate and powerful" -- Rover Montreal
"This book certainly holds its own in the canon of Holocaust-based fiction for the young adult audience. The narrative voice is a real teenager, dealing with real teen issues of growing up in unimaginably challenging circumstances, and to Polak's credit never verging on hysteria or self-pity" -- Resource Links
"Montreal writer Monique Polak's affecting new historical novel ... is written with a clarity and freshness that makes it enjoyable reading despite the grim subject matter. Unlike Theresienstadt, Polak has seen that no 'embellishment' is needed when the story is told with the frankfulness of youth" -- The Canadian Jewish News
"Monique Polak's reputation as a highly respected author of young adult books grows with each book she publishes. With her latest book, What World Is Left, that reputation should climb by several leaps and bounds.... What World Is Left is a moving, yet courageous novel of love and survival in the midst of unspeakable inhumanity. Young adult readers will do themselves a service to read this book and find out how the Holocaust not only affected adults, but also children in a major way" -- The West End Times
"a very personal, thought-provoking and, ultimately, hopeful book" -- The Jewish Independent
"There are many books for young adults about the Holocaust. What sets this one apart is the setting" -- Southwestern Ohio Young Adult Materials Review Group
"While full of details about the horrors of a concentration camp, the novel is also full of hope as Anneke wishes to bear witness to all that she has experienced.... This volume makes for great reading and an excellent resource" -- Canadian Children's Book News
"This well-written, painful story is a good addition to the genre of Holcaust fiction. Many of these stories are written from the point of view of death camp victims, and very few from the point of view of the citizens of Theresienstadt" -- Library Media Connection
"An animatedly-written teen novel by the daughter of a Dutch family sent to Theresienstadt.... The story invented by the author is touching and brings an immediacy of experience" -- Jewish Book World
"Polak presents an incredible perspective on life during the Holocaust.... The novel is intriguing and quite unique. It is easy to relate to Anneke, as she wrestles with the meaning of love, truth, faith, and family.... The reader will undoubtedly find much to think about" -- What If? Book Reviews