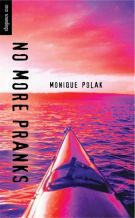 Publisher: Orca, 2004
Pete likes to play pranks. It doesn't matter what it is, as long as it gets a laugh. When he impersonates his vice-principal on a radio call-in show, he goes too far and is suspended from school.
Pete's parents send him to spend the summer working with his uncle, a whale-watching guide in a tourist town far from the city. When a whale is injured by a reckless tour guide, Pete struggles to save the animal. Then Pete has the pull the most important prank of his life to bring the guide to justice.
--"In this book, Polak has succeeded in telling Pete's story and making it more than a happy-ever-after ending. She has captured the teenage mind while still making her point. A good read." – CM Magazine
--"Lots of action here, combined with nice insights on the clash between tourism and the preservation of natural environments." – VOYA
--"Manages to hold the reader's interest with genuinely likeable characters and a quick-moving plot…. Having a Canadian setting adds an extra element of interest to the story for readers." – Resource Links