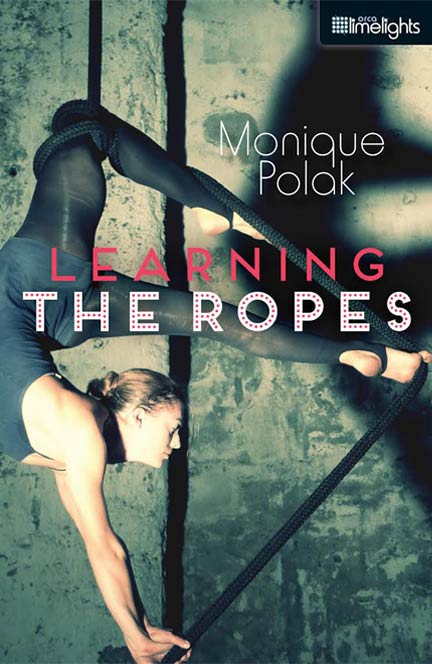 Publisher: Orca, 2015
Mandy dreams of a career in the circus, working as an aerialist who specializes in rope climbing. When she is accepted into the prestigious Montreal Circus College summer program, she feels that she is finally on her way to fulfilling her dreams.
At circus camp she is befriended—and challenged—by young circus performers from around the world. Circus camp turns out to be a magical combination of work and play, but when a veteran aerialist is killed in a fall, Mandy must confront the reality of circus life.
"will hook readers from the first chapter. Even though the ambitions of the main characters are specialized ... Mandy is relatable to any young teen in pursuit of a dream. The specifics of the characters' interests—... circus performance —are described in a way that is true to life and easy to grasp. VERDICT Suspenseful plot, fascinating details, and likable protagonists make ... [Learning the Ropes] a wonderful addition to hi-lo collections" -- School Library Journal
"addresses female competition, body image, and the pressure of gender expectations for young girls in society. This story draws lines betwen healty and unhealthy female friendships and empowers readers to be true to themselves when faced with societal or peer pressure.... a quick, bite-sized read, but ... packs a punch --- the well-developed story has relatable characters and an entertaining plot... will appeal to a diverse audience of young female readers" -- VOYA
"This easy-reading entry in Orca's Limelights series maintains an internal focus while offering an interesting glimpse behind the scenes of the circus world.... readers will get a taste of the hard work and danger that go into performing" -- Booklist
"With her strong dialogue and consistent narrative voice, Monique Polak succeeds in convincing the reader that a fifteen-year-old really is telling the story. It is an original idea to write about the circus. Most books about the performing arts describe more conventional disciplines such as singing, dancing, and acting. But even if the YA reader is not interested in circus arts or gymnastics, this book is still a guaranteed fun read" -- Montreal Review of Books