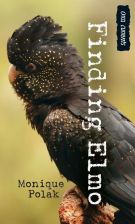 Publisher: Orca, 2007
Fifteen-year-old Tim loves his job at his dad's pet store, partly because he gets to spend time with his best friend, a black cockatoo named Elmo. But things at work have been tense since the store moved to a new location.
To make extra money his father rents out the store's exotic birds for parties and Tim is furious at this exploitation of his friend. When Elmo is stolen from one of the parties, the police are unconcerned about the theft. Tim and his new human friend, Sapna, set out to find Elmo and discover that Elmo is more valuable than they'd ever imagined.
--"The … fast-paced plot is sure to pull even the most reluctant of readers along in its wake." – Montreal Gazette
--"A page-turning and satisfying adventure." – Brantford Expositor