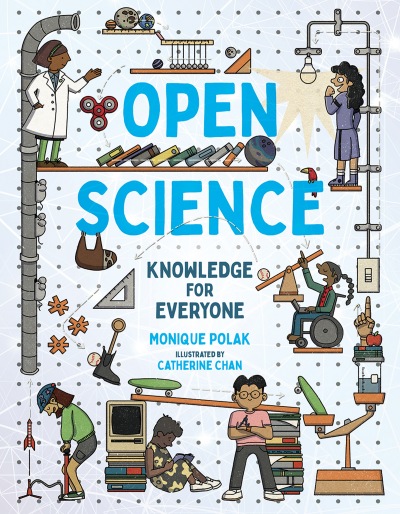 Science is for everyone, right?
Unfortunately, that's not always true. Discovery, research and innovation are often top secret, and big businesses charge high prices for that information. The field of open science is trying to change that. It's all about sharing knowledge. Teams of scientists around the world are working together to improve and speed up scientific research and share their results so that everyone benefits.
Open Science: Knowledge for Everyone examines the history of scientific research and how ideas and information are shared and why. It also looks at innovations made using open science, such as treatments for diseases and vaccines to protect against viruses like COVID-19, discoveries that were only possible thanks to the sharing of information. Discover how regular people, including kids, can be citizen scientists and what we all can do to share science and make the world a better place.
Reviews
"Let's imagine a perfect world where librarians exist in every school, and each of those librarians introduces this book to half a dozen classes. In those classes, two or three students are empowered to become citizen scientists. And those young students go on to introduce their friends, colleagues, partners and future children to the concept of open science. The potential is immense. It is easy to see that the investment in Open Science: Knowledge for Everyone could lead to a break-through in some as yet unidentified area. Put it at the top of your Must- Have list ***** " -- CM -- Canadian Review of Materials
"Highlights the benefits of researchers working together to find solutions and sharing them in a variety of contexts…Colourful illustrations throughout are particularly effective in underscoring the importance of emphasizing equity, diversity, and inclusivity in science. Inspiring and informative for readers interested in ensuring that scientific research is more accessible to everyone." -- Booklist