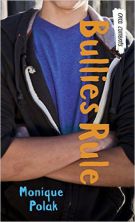 Publisher: Orca, 2017
Daniel Abel is surprised when, instead of being punished for "pantsing" another eighth-grader, he is invited to become an ambassador of Mountview High at the school's upcoming open house. What he doesn't realize is that he is part of a social experiment on bullying being conducted by the local university.
He is a little nervous to learn he will be working with Jeff Kover, a tenth-grader with a reputation for being the biggest bully in the school. Daniel has never thought of himself as a bully. He just likes kidding around. But hanging out with Jeff will change Daniel's perspective on bullying and force him to examine his own behavior.