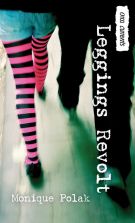 Publisher: Orca, 2016
Eric and his buddies have left behind their all boys school to attend high school with girls. Eager to find his place in this exciting new world, Eric joins the student life committee, unaware that he is expected to enforce the school's strict dress code.
The dress code is particularly harsh on the girls he is keen to get to know. Eric finds this awkward, but it's nothing compared to the position he finds himself in when the whole school revolts.
"By making a boy her main character but putting the book's focus on the injustice done to girls, Polak might well appeal across the gender line...The novel moves swiftly and may provoke some thought...intriguing." -- Kirkus Reviews
"Journalist and CEGEP professor Monique Polak has become one of Canada's most prolific writers of young adult novels. She does not shy away from writing about the issues that impact today's teenagers.... In this novel, she explores the theme of gender equality through high school dress codes.... A decision to stand up to an unfair dress code in a teenager's life can mark the beginning of finding his/her sense of self and starting on the path of the moral ground that will guide them later in life." -- Montreal Families