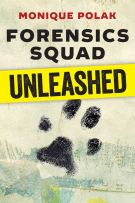 Publisher: Orca, 2016
Tabitha is thrilled to be attending a summer forensics camp, even if she has to go with her sort-of friend Mason. Soon she is learning to dust for fingerprints, photograph a crime scene and take footprint impressions.
Even though the camp instructors have set up a "crime" for the kids to solve, Tabitha longs to use her newfound skills to solve a real-life mystery. She's pretty sure a dognapping ring is active in her Montreal neighborhood, and when her beloved dog, Roxie, is stolen, she convinces her forensics "team" to help her find Roxie and nab the 'nappers.
"Tabitha narrates, and Polak keeps the focus on her excitement as she works her way through not only evidence, but some new life lessons...Science and courage make for an appealing mystery for dog lovers." -- Kirkus Reviews