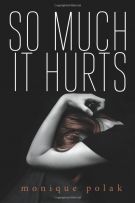 Publisher: Orca, 2013
Iris is sorry. Sorry that she no longer hangs out with her BFF. Sorry that she's not closer to her mother. But most of all, she's sorry she makes Mick angry.
If all the world's a stage, then Iris's life has become a violent drama, starring a man whose fists are at odds with the eloquence of his words.
"So Much It Hurts provides a detailed anatomy of a young girl's descent into the nightmare of an abusive relationship that is both accessible and thought provoking" -- Quill & Quire
"Parallels between Iris and Hamlet's Ophelia, a role she is playing in her high school's production, are telling, and Polak does a credible job portraying Iris as a smart girl who nevertheless finds herself submitting to increasingly vile behaviour...[The novel's] positive outcome should give heart to those who need it." -- Booklist
"Nicely written about a difficult subject" -- VOYA
"Portrays an unhealthy, violent relationship in a comprehensive and engaging way. The insight into the life of the victim seems very realistic. So Much it Hurts could be used as a great discussion starter, reflecting the horrors of abusive relationships and how to handle them...The dark drama is mesmerizing." -- Teen Reviewer for VOYA
"Polak's narrative voice for Iris is insightful and true to life, employing a tone that accurately captures the confusion, naiveté, and ambitions of your average teenage girl.... Though I found it almost uncomfortable to put myself in the shoes of a girl so invested in someone so harmful to her well-being, perhaps this lack of comfort is exactly what Polak aspires to glean from her readers -- for them to identify Iris' relationship as toxic, and to be conscious of avoiding similar situations themselves" -- CM
"Readers will acknowledge Mick's volatility long before Iris's denial lifts, while recognizing how the desire to love and be loved can so easily turn self-defeating." -- Publishers Weekly
The message is clear and relevant to teens." -- Library Media Connection