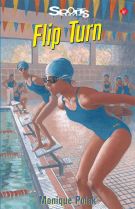 Publisher: James Lorimer, 2004
Victoria Miller is a hard-working member of a Montreal swim team who has been training six days a week for the past four years. That's what it takes to keep up with her teammate and rival, Svetlana. Most of the other swimmers are spurred on by their parents – but not Victoria.
In fact, her mother doesn't seem interested in much of anything these days, and her father has buried himself in work. When the family situation takes a grim turn, Victoria looks for help – and finds it in an unexpected way.
--"The author … has done her research. The in-pool portions of this book are decidedly refreshing." – Montreal Gazette
--"Kids will appreciate Polak's book for its frank writing and honest characters. Her characters are flawed but utterly human, and their moral struggles are ones that will ring true with teens." – Montreal Families