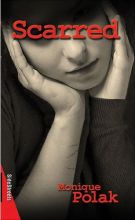 Publisher: James Lorimer, 2007
Becky was once a promising skating star, but these days she feels numb, disconnected, and very lonely. The only way she knows how to relieve pressure is to cut herself. Now a gifted girl she coaches seems to be skating down a similar path.
Will Becky have the strength to help her young friend and face her own past?
--"What I love about this novel is the tight writing. It's a short book and every word counts. Even as the reader is repulsed by Becky's actions, they do make sense in a world without choices. I also like the fact that Monique has worked into the story a way to self-heal. This book is … a great read." – Brantford Expositor
--"Scarred breaks new ground as a novel about self-injury.... Given the obvious dangers with this shockingly common destructive behavior, society at large and schools in particular must directly address this issue. Scarred is a good place to start.... The novel's brevity does not compromise the believability of the characters or the conflict." -- Resource Links