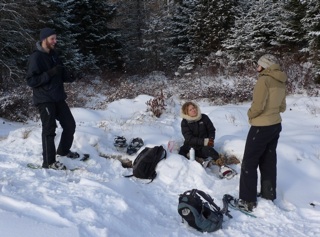 Even on the last day of my eight-month sabbatical from teaching at Marianopolis College, I managed to think of you, dear blog reader!
I spent most of today snowshoeing at Doncaster Park in Ste-Adele. And because I was with three visual artists, my friend Thomas Kneubuhler, and his friends Andreas Rutkauskas and Jessica Auer, there was a lot of talk about creative stuff, especially photography. (There were also, as you can imagine, several photo-taking stops!!) Andreas, who teaches at Vanier College and Concordia University, said something really interesting that I thought applies not only to photography, but also to writing (that's when I thought to myself, "Hey, I should mention that in a blog entry.") Here's what it was: Andreas says he often tells his photography students to consider what sorts of things they have "access to" and that they should share this access with their viewers.
Now, usually, I'd have a pen and paper in my pocket or purse, but all I had with me today was an extra pair of mitts. So, just for you, I made a point of remembering Andreas's wise remark. And here's something for us all to do: consider what sorts of things we have "access to" -- worlds that others might know little about. Maybe that'll lead to a subject for a photo -- or a story.
Let me know if Andreas's trick works for you!
And one more thing that connects photography and writing" Jessica told me she rarely goes anywhere without her camera... I had explained that I get up early to write three pages in my journal every single day, so Jessica said, "My taking pictures every day is like you writing in your journal." Which means we all need to PRACTICE. Hey check out Thomas's, Andreas's, and Jessica's websites (I've given you the links in paragraph two) to see what they've got "access to."
P.S.: Thanks to Thomas for today's picture!