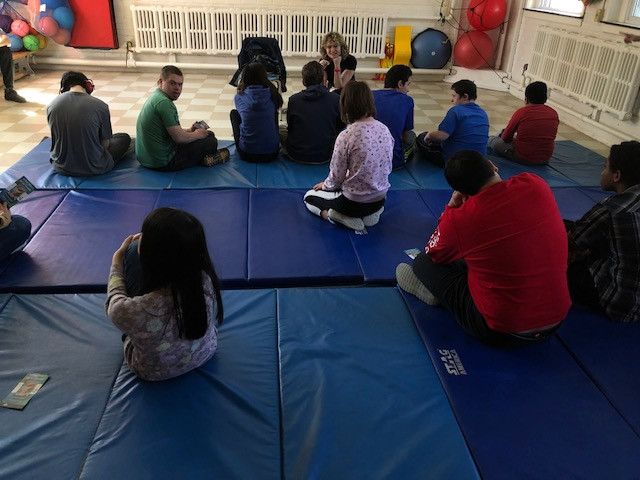 I do lots and lots of school visits, but today's visit was extra-special. That's because, as part of this year's Blue Metropolis children's festival, I was invited to work with special needs students at REACH in St. Lambert.
I started by telling the students that I think the world needs to hear more stories from special needs kids. And no one can tell them better than the kids themselves! As usual, I talked about the importance of writing and reading. I told the students that they don't have to write three pages a day in a journal the way I do. I even suggested they try writing a word or two a day, and then move on to one or two sentences. As for reading, I told them that some of the very best books in the world are picture books. These are illustrated books with brief texts -- and though they may look simple, they're usually very deep!
We also talked about trouble. I treated my audience pretty much the same way I treat the college students I teach every day. I told them about how TROUBLE makes a story move forward. Stories about someone's perfect day... well ... who wants to read those stories? They're boring!
I asked the students for examples of trouble in their own lives. Angelina, who told me that she keeps a journal, said, "My sister keeps bothering me when I try to draw." (Something that touched me very much today was that on my way out, Angelina asked if she could have a second bookmark -- and guess what? It was for her sister!) One story often reminds us of another. That's what happened when Angelina's story caused Andrew to come up with an example of trouble from his own life. Andrew told us, "My younger brother calls my name when I'm trying to focus."
We also talked about the importance of asking WHAT IF? That's the question that moves stories forward. Jeremy was telling us about a squabble he got into this morning with his dad. When Jeremy mentioned the word "captain," I suggested he might try writing a story about Captain Jeremy, who makes his father salute him when he sees Jeremy!
We also talked about copycats -- which led us to come up with the idea of a book in which a real cat (wearing a blue T-shirt like the one Andrew was wearing today) copies everyone in a class. I must say that idea made the students laugh. And if, as writers or storytellers, you can make your audience laugh... well, then you are definitely succeeding!
As you know, I am always collecting names for future stories. Here are some names I collected today: Donnick, Saud and Marshai.
I read the beginning of my first Princess Angelica book to the kids. And Angelina (whose name is quite close to Angelica's) came up with another book idea for me. "What if she pretends to be an artist?" Angelina suggested. Good idea, Angelina! And see, you used the WHAT IF method!!
Thanks to the students at REACH for opening your hearts to me today. Because of you, my own heart opened a little wider. Thanks to Blue Met for arranging the visit, and thanks to the teachers and support staff for sharing your students with me.