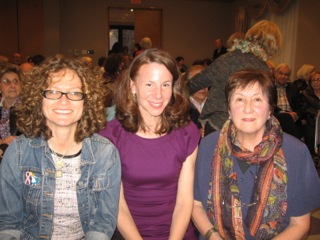 That's me in today's pic with New York author Alyson Richman (Alyson is in the middle of the pic) and Montreal historian Trudis Goldsmith-Reber.
Goldsmith-Reber was the co-chairperson who helped organize Richman's talk tonight at the Jewish Public Library here in Montreal -- and I had the honour of introducing Richman to the audience. She is the author of The Lost Wife, a wonderful historical novel set partly in Theresienstadt, the concentration camp where my mum was imprisoned and which I also wrote about in my YA novel What World Is Left. So, as you can imagine, I was keen to meet Richman and hear what she had to say.
Richman, the author of four novels, explained why she writes only historical novels: "I like to learn while I'm researching."
Like me, Richman is an accomplished eavesdropper. She got the idea for The Lost Wife when she was at a Long Island, New York beauty parlor and overhead a conversation -- the hair stylist at the next station was saying how she'd heard of an elderly man who, at his grandson's wedding rehearsal, recognized the bride-to-be's grandmother because -- get ready for this part of the story! -- she had been his wife before the war!
Art plays an important role in The Lost Wife. Richman's mother is an artist. She explained how her writing was influenced by her mother's teachings about colour theory: "Blue looks very different next to its complement of orange than when it's next to green. Characters also change in relation to other characters." (If any of my students are reading this -- think about our discussion about characters who acts as foils for other characters.)
During the question and answer period following Richman's talk, someone asked about her writing process. She admitted that when she is on tour, she isn't able to do much writing. "I need consecutive days to write. Every day I write, I re-write what I did the day before. It's this constant refinement."
But, Richman added, she never suffers from writer's block. "I am carrying this book [whichever one she is working on] with me constantly," she said.
So, here's to constant refinement and carrying around your book! It's a strategy that seems to work well for Richman.