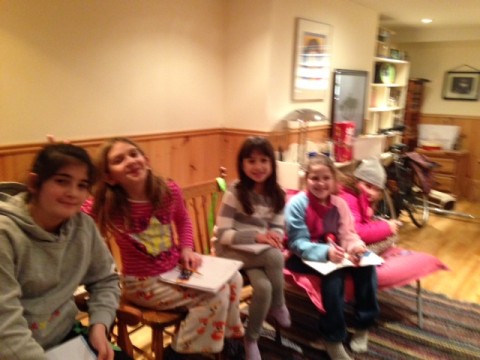 When I was a kid, I used to play school in our basement. (That may help explain why I became a teacher!)
Well yesterday, about 45 years later, I taught school in the basement again. That's because the same group of home-schooled kids who visited my Writing for Children class at Marianopolis College on Monday dropped by my house for a special once-in-a-lifetime writing lesson!
We did a lot of stuff in a little time. I gave the kids writing tips, read them from my WIP (that's work-in-progress), and got them to do some writing.
We talked about how doing research is an important part of writing a book. I knew from reading Zahra's mom's blog that on Friday, Zahra and a group of friends started working on an ice house. I suggested that because Zahra knew a lot about ice houses, she might use her experience as research for a possible story. Zahra liked the idea. As she put it, "To write a story it helps if you lived the occasion." I asked Zahra to share some DETAILS (details are also important when you write a book). She told us that she and her friends used water Zahra's mom had frozen in milk cartons. "We ripped the cartons open," Zahra said.
Don't you just LOVE the word RIPPED in Zahra's sentence? As I told the kids, I love strong verbs. Ripped sounds way better than opened, don't you agree?
We also talked about how trouble helps move a story forward. I was impressed when Neval, who is eight years old, commented about the book My Friend Flicka that, "there's too much trouble in it."
I was also impressed that ALL FIVE of the kids reported that they WRITE EVERY SINGLE DAY. Julia, who is also eight said, "I write about what happened to me and what I'm feeling."
It happened to be Sarah's 10th birthday -- sorry we didn't sing to you, Sarah! I wanted to, but then I got too busy teaching you guys stuff. And I also want to report that Dunia, who is nine, had a look around my house and said, "This is a nice place!"
Here's to young writers. Glad I got to do another class in the basement!