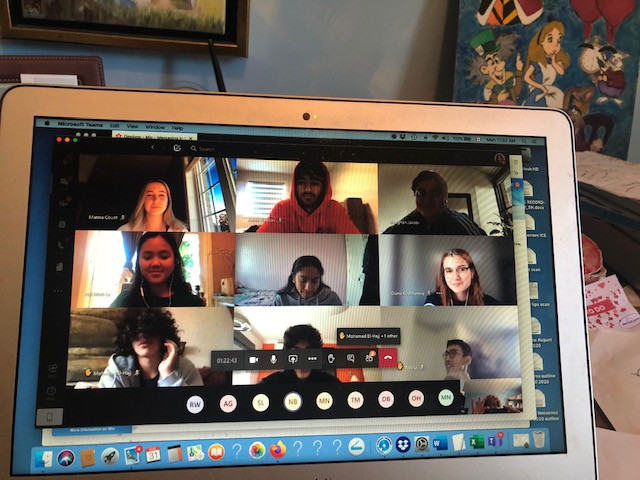 Hello hello, blog readers! I had my first fully on-line class just now -- and I told my students the most important thing about their journal-writing is that it has to be honest. So, I'm going to follow my own advice and confess that I was DREADING going back to school as an on-line teacher. Last semester, when the pandemic hit, we had already had half a semester with our students, so switching to on-line delivery was challenging, but not that bad... I think because we had already gotten to know our classes.
But I've got happy news! Though I didn't meet my Introduction to English class in person, I ALREADY FEEL FOND OF THEM. This is for me the magic of teaching -- and I honestly didn't think the magic could really happen online. Maybe it's that teenagers are my favourite age group. Maybe it's that even on-line, I could feel my students' interest and CURIOSITY. (We also discussed how curiosity is essential because it leads to learning.)
I thought I'd share a few fun moments from today's class. When I asked the students if any of them actually enjoyed writing, a student named Diana answered, "Yes... but if it's hard, it won't be pleasure." I took that moment to explain my philosophy -- THAT WRITING IS ALMOST ALWAYS HARD, BUT IN A WEIRD WAY THAT'S EXACTLY WHAT MAKES IT A PLEASURE! Even at my age (sixty!), and after publishing a lot of books, I STILL FIND WRITING HARD. (But doing hard things feels good!)
We talked about the kinds of writing a person can do in a journal. I explained that cathartic writing allows us to express and process our feelings. A student named Maxine told us, "My mom makes me write to express my feelings." Maxine didn't know the word cathartic -- and I told her to tell her mom that she's doing a great job -- and to teach her mom the word cathartic too (in case she doesn't know it).
We also talked about self-care -- and how, as the pandemic continues, we all need to look after others, but also ourselves. I mentioned a few self-care strategies such as reading, writing, being out in nature, getting exercise and being kind to others. A student named Ashley suggested "skincare" -- but because the sound was a little muffled, I thought she had said "kincare" -- which is not a real word, but which I decided that I liked. Skincare is good too, but the word "kin" refers to family (and friends). So, I loved the idea that caring for family and friends is good for us too. And we invented a word during our class -- kincare!
So here's wishing you, wherever you are, no matter your age, a good back-to-school season. Despite the challenges our world is facing, it's heartening to know that curiosity and learning and caring for others all remain alive and well. My first morning back at Marianopolis College -- even on-line -- reminded me how privileged I am to be a teacher! Special thanks to my Introduction to English students for making me feel this way! Welcome to Marianopolis!