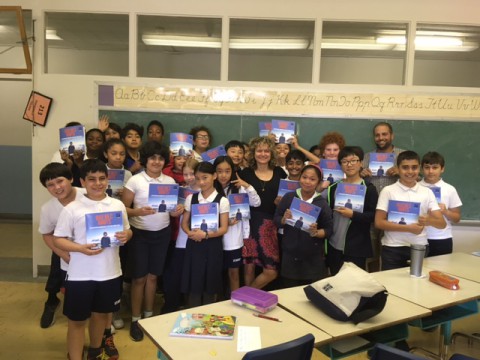 It's been an exciting morning here in NDG. I am just home from a book launch at St. Monica School, which happens to be conveniently located around the corner from my house!
We were celebrating the launch of this year's edition of Quebec Roots -- it's a Blue Metropolis Literary Foundation project in which students from across the province work with a team of authors and photographers to contribute a chapter to the book.
Photographer Thomas Kneubuhler and I were lucky that we got to work with Mr. Trister's Grade Five class at St. Monica's. (That's Mr. Trister in the back corner of the first pic.) Thomas is away in Switzerland on a work assignment, so I had to talk enough for two people (not a problem for me!!).
As you can imagine, the kids were pretty psyched to see their words and images published in a real book! A student named Joanne told me, "I got inside a published book and I want to do more!" And a student named Mel made me happy when he said he might keep a journal this summer: "I might write about my vacation. We might go to Auberge Lac Taureau and there's a beautiful beach there."
And because I'm me, I took a few minutes to pick the students' brains about a book project I'm working on. I need one of my characters to be hooked on video games -- and the kids told me the latest, best video games: 2K17 and Battlefield 1. Thanks, guys!
This winter, I also travelled to Salluit in Nunavik, to work with students at Ikusik School. The Ikusik kids contributed two wonderful chapters to this year's Quebec Roots. In all, there are seven chapters. I can't wait to read them all. I hope you will too!!