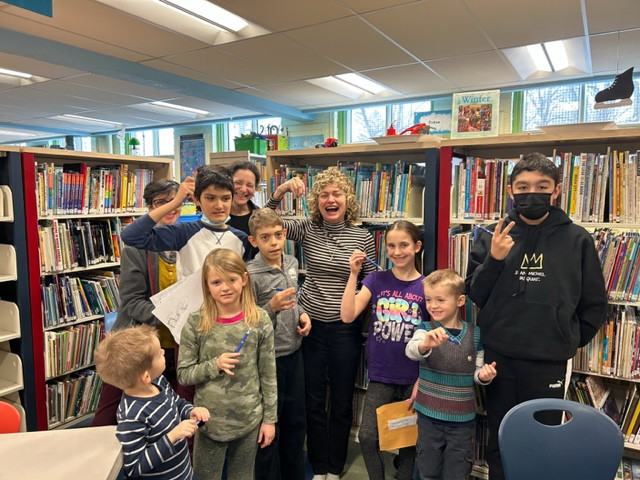 In today's pic, I'm with a lovely gang of kids at the Montreal West Children's Library, where I did the first of two writing workshops to help students prepare submissions for the Bill Foster Writing Contest. This was my first time visiting the library, and as soon as I stepped inside I could feel it was a fun, happy place! The library is located in the same building as Elizabeth Ballantyne School. The story of how I got invited makes me happy too. A former student of mine at Marianopolis College, Sarah Brunel, volunteers at the library, and she suggested to head librarian Ekaterina Valkova (oh she's in today's pic too, but kind of hiding out towards the back of the pic!) that I come to do the workshops. Ekaterina -- the kids call her Katia -- explained to me that Bill Foster, after whom the library's writing contest is named, was a longtime volunteer at the library. Bill died in 2021 and his wife Joan came up with idea of sponsoring the contest in her husband's name. Because I was a few minutes early, I posted a pic on Instagram and mentioned the contest -- and then a sweet thing happened. Two of my friends wrote to tell me that they were close friends of Bill and Joan's.
Okay, now about the kids! I had seven kid-participants, ranging in age from four to twelve. And there were two mom participants, including one of my former colleagues at Marianopolis, Brigitte (she brought all three of her kids!). Because the workshop was an hour long, I tried to pack a lot in. We talked about the importance of reading and writing, how writers need to do research, how stories need trouble, and how first drafts are just first drafts!
There was time for two writing exercises! Yay! Because I'm trying to help the kids generate story ideas for their submissions, I asked them to begin by remembering a moment of change in their lives. Amélie, who's eight, remembered the arrival of a family dog. (There was trouble when the puppy peed on her grandparents' sofa!). Mia, who's ten, remembered getting a mean replacement teacher at school. Ian, who's also ten, remembered learning how to write.
For the second exercise, I had the students imagine the story they would most like to read. Alonzo, who's eleven, wowed me when he read the following sentence to the group: "I would most like to read a book about health problems that are disruptive to a child's learning." See why I was wowed? Hey I was also wowed when Louis, who's six, used the word "chaos." How many six-year-olds do you know who go around using that word?!
Emilio, who's twelve, wanted to read a graphic novel that answers the question "What if the Soviet Union had won the Cold War?" I'd say that's also pretty WOW!
One of my favourite parts about today was the way in which, by sharing stories, the kids inspired each other. Amélie's dog story got Ian thinking about a cat action-adventure story! And Amélie's story about an ancient Egyptian pharoah got her brother Louis thinking about an ancient Egyptian mummy, whom Louis imagined "wrapped up in toilet paper." Great humour, Louis! Everyone loves a funny story!
There are some writers who tend to be super private about their writing. I respect that. But I'm the kind fo writer who loves sharing ideas and hearing other people's ideas. Those were the kind of young writers who turned up at the library today. Now I just hope one of them goes on to win this year's Bill Foster Writing Contest.
I'll be back at the library doing a second workshop on Sunday, March 12. The kids are under no obligation to return, and some already have plans for that day. But I suggested that those who cannot make the second workshop work on their stories and leave them with Katia. Then on March 12, I can say what I like about each story, and suggest a way or two to improve it. And if new kids turn up for the second workshop, that's fine with me too. You know why? Because hanging out with kids, especially ones who are interested in learning about writing ON A WEEKEND, makes me happy.