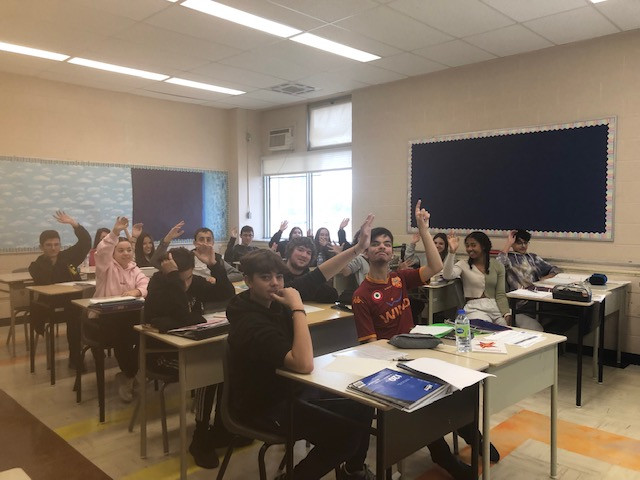 Why, you must be wondering, do so many kids have raised hands in today's pic? Well, it's for an excellent reason. I had just asked Ms. Lambropoulos's Grade 9 enriched English class at Laval Senior Academy whether any of them have had the feeling of reading their own first drafts and thinking, "This is awful! I have no talent whatsoever!" As you can see, nearly all of them said they knew the feeling. Which was, in my opinion, proof they are REAL WRITERS. We real writers know that first drafts are just a start, and that the hardest part of writing comes afterwards when we are RE-WRITING! (I also told the students that if someone had told me that when I was in high school, I would have had a much easier life!!)
I will be spending four days this fall at Laval Senior, where I'm working with Ms. Lambropoulos's Grade 9's and Ms. Gosdanian's Grade 10's. I'll be seeing some of the classes twice, some of them three times -- and some four times (lucky kids! Kidding! I hope they won't get too tired out by my energy and enthusiasm for writing and reading!!).
I had met some of Ms. Lambropoulos's students when they were younger, and enrolled at Laval Junior Academy. It was fun to see them so grown up! Matthew (whom I remembered from LJA) asked, "Is your writing advice for all genres?" I thought that was a smart question, and I liked Matthew's use of the term "genre." My answer was YES. In my view, good writing is good writing, wherever we find it or do it. Matthew told me he's interested in writing about politics and economics. Which prompted me to say that these days, a lot of our most important fiction looks at these issues. I mentioned Angie Thomas's novel The Hate You Give -- so you can imagine how pleased I was when a student named Tristan waved his copy of the book at me! YAY for readers and reading!
Second period, I worked with Ms. Lambropoulos's Sports-Etudes students. I found it was easy to find connections between writing and doing sports, which all these kids do. Both require practise and dedication, and are often hard to do. For me, even after publishing so many books, writing remains difficult. A student named Nephia had this to say about her sport, basketball: "This summer I was practising in front of my house and I felt like I was messing up. But I did it over and over again till I got it right!" Well put, Nephia -- and great attitude!
I finished my day with Ms. Gosdanian's Grade 10's. Also I got to meet the class's student teacher, Ms. Song, who used to be a student at Marianopolis College, where I taught until last spring. Too bad for me I never had Ms. Song in my class. I do remember seeing her in the hallways though and thinking she was a cool dresser! This class was great -- they were relaxed and focused at the same time, my favourite combination. A student named Justin impressed me when, in response to my question, "What does it take to write non-fiction?" he answered "Creativity and imagination!" I had been looking for the answer CURIOSITY, but then I realized Justin was right too.
I'll be back at Laval Senior Academy tomorrow. I'll be seeing two groups for the first time -- and going a little deeper into the writing process with Ms. Lambropoulos's Grade 9 enriched class. If you're curious to know how things go, you know where you can read all about it -- right here!
Many thanks to Ms. Gosdanian, Ms. Lambropoulos and Ms. Song for sharing your kids with me. I know school visits are not supposed to be about ME having fun, but I DID!!