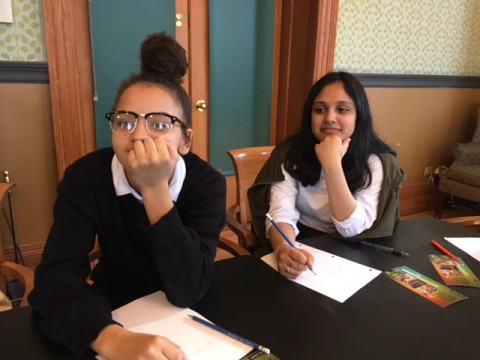 It's me again! Reporting in from Day 4 of this year's Blue Metropolis Literary Festival. Don't you love today's pic? Mett Melea (on the left) and Kashuf (on the right). I was at the Westmount Library, doing a writing workshop for their Grade 8 class at Westmount High, when I spotted these two students in perfect "concentrating" position. So of course, I whipped out my cellphone and took a pic that I could post here for all the world to see.
I also explained to the class that I love love love the old writing rule, "Show; don't tell." I could TELL you that the girls were concentrating. But it's way better to SHOW you that they were resting their chins on their hands, taking notes and looking right at me.
More exciting news: the students' teacher, Miss Tevel, was one of MY students at Marianopolis College. Makes me think I must do a good job!!!
I love learning stuff about kids, and of course, I write everything down for possible future use in a story. I loved that a student named Mohammed was keeping track of which number point I was on. "Maybe I want to be an engineer," Mohammed told me. Sorry, by the way, for hopping around between points, Mohammed. As you can guess, I would have made a terrible engineer!
I was also kind of fascinated by a student named Josh. (I told the class that if I'd had a son instead of a daughter, his name would have been Josh.) Anyway, Josh looked a little sluggish (leaning way back in his chair, not taking notes), but also quite smart (could have been on account of his glasses). When I asked him to write a list of ten things he hated, I discovered that Josh is a creative thinker. Now go use that talent, Josh!
The other students wrote about a memory connected to bullying. I absolutely loved Nikitas's first line: "It was 3:06 dot on." The "dot on" part really catches my attention. Cyrus wrote about how his older brother "hit me with a belt as a joke" -- that's powerful material, Cyrus. And Hang wrote something really really beautiful that I think she should develop into a book. She described her memory of being in Grade 4 in China: "It was HELL. There was a rumour going around about the fact that I'm Japanese." When I asked Hang more about the rumour, I learned something super interesting -- that it was only afterwards that Hang learned that she is actually part Japanese. Whoo! How interesting! I wish I could write a book about Hang's experience -- only problem is that Hang would do a way better job since she lived it. Hang, start writing!
I had another great morning at the festival. Thanks to my friend, Westmount Library's children's librarian Wendy Wayling, for hosting me; thanks to Miss Tevel; to the other adults who were present; and special thanks to the kids. I had a blast with you guys this morning. Now, go write and read!!