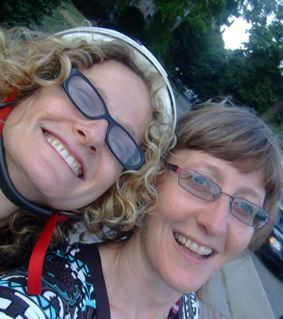 Last month, en route from Nairobi, I spent part of a day in Amsterdam. My parents are from Holland and that day, I found myself thinking how, if world history and their lives had been different, I might have lived there instead of in Canada. The thought made me a little wistful. Amsterdam is a beautiful city and I feel really good there.
A fun development in my life the last few years is that I've made some Dutch friends. One is named Frank -- he's the son of good friends of my parents -- and he kindly agreed to meet up with me (and my friend Viva) that day in Amsterdam. Frank has also been sending me Dutch books (translated into English since my Dutch is improving... but still far from terrific). The last book he sent me is Jeroen Browers's Sunken Red. But I'll get back to that book in a moment.
My other Dutch friends live here in Montreal. They are Bianca and Alice. There's also Anneke, but she has moved to Israel since I met her (though she happens to be visiting Canada and we had a great afternoon together this week too).
Yesterday, I saw Alice (that's her with me in today's pic). Her full name is Alice van der Klei and she is an instructor of comparative literature at the Université du Québec a Montreal. We worked on my Dutch while we discussed many things including Dutch style -- the subject of today's blog entry. I told her how much I am enjoying Sunken Red and mentioned how in some ways, I recognize my own style of writing in that book (this has happened to me while reading other Dutch books, too). Sunken Red is a first-person account in which Jeroen Browers recalls his early childhood experience in a Japanese concentration camp. The book is sometimes so painful I have to put it down. Here is an example of a line I found really good -- and interesting: "I think I would be a bad writer if I was 'happy': happy writers have nothing to say." (If you have been following my blog, you'll understand that this ties into my interest in TROUBLE and the essential role of trouble in stories.)
So since Alice is an expert in comparative literature and since she's from Holland, I asked her to tell me a little about the Dutch literary style (and because we were out at a terrasse on Notre-Dame Street, I took notes on the back of the bill for my lemonade!). Here's what she told me: "The Dutch style is direct. Dutch literature is often about World War II, about Indonesia and about sex. It's a beatnik kind of literature, maybe because we have all this freedom in Holland."
And you know what else Alice told me? That the first time she met me, she knew right away I was Dutch. "Dutch people," she said, "have a directness and enthusiasm." I like that -- and I hope those traits come through in my writing, too. Alice, by the way, is working hard to help organize an upcoming international conference here called Word and Image. Check out this link to learn more. She'll be doing a talk about the symbol of Ché Guevara. Sounds super interesting to me!