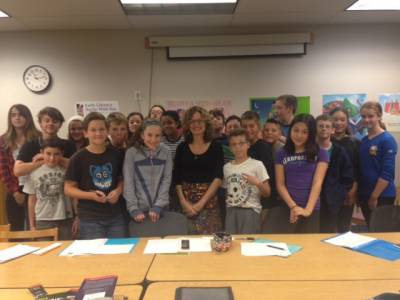 I'm writing today's blog entry from Serious Coffee, a café in Esquimalt, British Columbia. I got walked over here by the loveliest group of grade sevens (that is them in today's pic) from Ecole Victor-Brodeur, after I did a reading/writing workshop this morning at the Esquimalt branch of the Greater Victoria Public Library. Victor-Brodeur is a French school and because these students rarely get to meet a French-speaking author, I was asked to do my presentation in French. It's also handy that two of my books have been translated into French.
I told the students how I am always on the look-out for stories -- especially ones involving trouble. For example, one of the liveliest participants this morning was a guy named Hamzah, whose wrist was bandaged up. So I asked him what happened -- and learned he'd had an accident playing soccer. That experience could go into a story, Hamzah! I also demonstrated how I use the question WHAT IF? to fuel my stories. What if, I asked the students, I kidnapped Hamzah and brought him back to Montreal with me on Wednesday morning? Don't worry, blog readers, I'm not planning to commit a felony -- just playing with story ideas!
We also discussed how, for most writers, myself included, publication only comes after numerous (often frustrating) attempts. Together, we came up with the perfect way to say this in French: "L'échec conduit succès." (Special merci to the students' teacher, Madame Carole, who contributed to that translation.) I'll be doing a second presentation this afternoon to another group of kids from Victor-Brodeur. If they are even half as wonderful as this morning's group, I'll be in for a happy afternoon.
PS: The second group was just as wonderful and fun. I don't know what the folks are doing at Ecole Victor-Brodeur, but whatever it is, keep doing it. The students I met today were bright and enthusiastic; it was a real pleasure for me to work with them. Special thanks to librarian Joy Huebert for your company -- and for ferrying me around today.