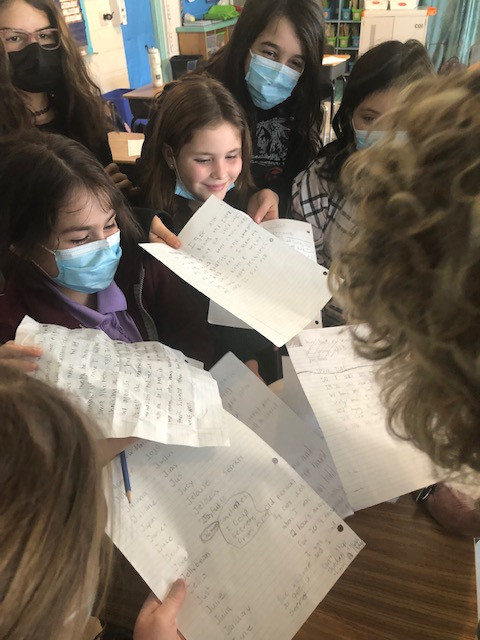 This was my second day this week working with Grades Five and Six students at Mount Pleasant Elementary School in Hudson. But it was my first time meeting the kids in person, since Monday'a visit was virtual. Oh, I had such a great day. The problem is I have four full pages of notes for this blog entry! So I need to do what I tell students to do: SELECT THE BEST STUFF!
I'll start by explaining today's pic. It was taken at the end of my fourth session today (with one of Miss Sarah's Grade Five classes). At the end of the session, I got kind of swarmed by students waving their story ideas at me! But it was a good kind of swarmed! All you can see is my hair and my hand, but I can tell you I was grinning behind my mask! Great work today, kids!
I started the day with Ms. Malone's Grade Sixes -- then It was back and forth between Miss Sarah's and Ms. Malone's classes. (I hope that makes sense. If not, don't worry about it!) I'll start with a funny moment. It happened when a student named Jahsiah raised his hand to ask me something. Now Jahsiah had this look in his eyes that gave me the feeling it was going to be a profound question.... (building suspense here!) ... and then he asked, "Can I sharpen my pencil?" I chuckle just writing this part down! But later, during our coming-up-with-story- ideas exercise, Jahsiah had a great idea which he allowed me to share with you: "A man named Tony who lived in a small town gets hit by a car on his way to work. The driver of the car becomes Tony's best friend." I'd say there's already A LOT of interesting stuff going on -- and that's only in two sentences. Also, I love stories set in small towns -- the fact that people tend to know each other well adds all kinds of story possibilities! Landyn came up with a powerful memory of the pandemic that might work its way into her story -- it was about her dog getting injured during the pandemic when he jumped off a neighbour's lap. This story, by the way, was the first of several pets and pandemic stories the kids wrote about today.
When I said hello to Miss Sarah's first class, a student named Adam called out, "How much money do you make a year?" That also made me laugh. I explained to Adam that that's probably not the best question to go around asking grownups. But then I explained how authors earn a royalty for every book sold. Which isn't bad if you're like me and you write a lot of books and sell many copies of them!! This class also came up with some great ideas. Rachel is thinking about writing a story called "The Mind's Eye." Super intriguing title, Rachel! Anya wrote about the death of her grandma's dog during the pandemic. The dog was named Jiggs. Anya wrote, "This made me cry for six hours. I grew up with him." I found those sentences so beautiful because we can feel Anya's sorrow. I'm sorry about Jiggs, but Anya, you have found a way to turn something sad into something beautiful. That's a gift!
Next, I was back with Miss Malone's second class. I actually spent the most time with these kids because I stayed to eat my lunch with them. Thanks for the company, you guys! Also I have to admit I had a favourite student today: Mitchell. That's because BOTH lenses suddenly popped out of my reading glasses. What are the chances of both lenses popping out at once? Now when you are 61 and 3/4 like me, that is a serious problem!! But Mitchell popped the lenses back in for me. And then he explained, "My dad's a mechanic ." Well thanks, Mitchell, and pass on my thanks to your dad too -- since you seem to have inherited his mechanical skills! Mitchell is contemplating writing about the following story: "This book is about a young soccer player who becomes professional. When he leaves soccer, he becomes a mechanic for the rest of his life." Hey, I wonder where Mitchell got the mechanic part from!! At lunch, Phoenix showed me the songs lyrics he's been working on. And he said I could share one of my favourite lines with you. Here goes: "You picked me out of that bowl like you pick out candy." Phoenix! Keep using that originality. I love the surprising link you have made between people and candy.
I've already told you about the last group when I explained about today's picture. But I'll close today's blog entry with what they said when they walked into the classroom. Amelia showed me her notebook, and said, "I've always liked writing. This is my scribble book." (I love the idea of a scribble book.) Jasmine said, "I want to be a writer." Leia added, "Me too." Isobel said, "I also want to be a writer." Kenora said, "Me too. I already wrote my first story." And James asked, "Do comic books count?" To which I answered, "Of course they do!!"
I'm afraid this turned out to be a rather long blog. And I still left out a lot of good stuff. I'll be back for a third visit to Mount Pleasant Elementary some time soon. In the mean time, Mount Pleasant Grades Five and Six students, I want you to work on your three paragraphs for me. And my plan is to read every single one of your little stories and give you some suggestions for how to turn them into books.
Thanks to Ms. Malone and MIss Sarah for sharing your kids with me, thanks to librarian Ms. Hausen for arranging the visit, thanks to principal Ms. Daoust for wanting to help your students develop their literacy and creative writing skills. Thanks to ELAN's ArtistsInspire program for making my visits possible. But most of all, thanks to every single one of the young writers with whom I worked today. You have dazzled me!