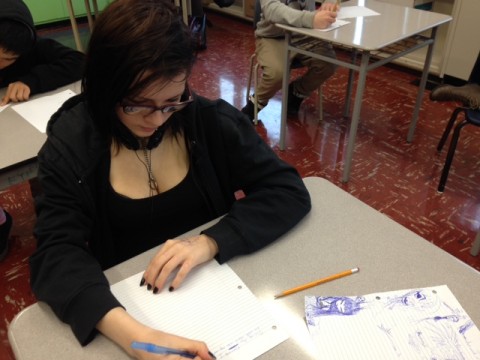 I am just home from my first of two mornings at Horizon High School -- an alternative high school in Pointe-Claire. I was there to do a writing workshop with a group of students from grades eight to eleven. I must admit some of them were a bit of a handful -- and two students didn't make it through my entire session. (I'm still hoping they might give the workshop another go tomorrow, but who knows?)
I started with my usual writing tips and we ended with a writing exercise. Tomorrow, I hope to focus more on writing. Today, a student named Taz asked, "Does it [meaning whatever the students might write] have to be an appropriate story?" My answer was ABSOLUTELY NOT. I don't think writers should worry about being appropriate. I think we need to worry about WRITING WHAT MATTERS. (Even as the author of many books, I still need to remind myself that this, for me, is what writing is all about: finding stories that matter to me, and telling them in a way that will make them matter to my readers.)
A student named Hayden told me, "I'd rather read than write." I shared my view that if a person enjoys reading (Hey, Hayden -- I hope you noticed that I did not say "if a person loves reading"), then that person usually also has a gift for writing. That's because reading and writing are so deeply connected. Sometimes, for me anyhow, they feel like one activity.
To be honest, it's a little discouraging when students are not open to what I have to share -- so I was disappointed to lose two of them this morning -- but I did cheer up when I read the work that some of the students did during the writing exercise. One student wrote about an old memory having to do with sports and I was deeply moved by his words; another described her memory of having an allergy attack (I suggested she ask the question "What if?" in order to develop her piece); and another student wrote about her preference for drawing over writing (I suggested maybe she could write about her earliest memory of drawing -- and that seemed to get her pen moving on paper). Hey, you can see on of this student's drawings in today's pic!
So... all this to say, it was a special morning for me. Not always easy, but always interesting. And hey, I'd take interesting over easy any day.
Special thanks to the junior students' English teacher Qaadira Decoteau for your help and for sharing some of your students with me. And thanks to the Pointe-Claire Library for making these workshops possible -- and to librarian Marie-Andrée Dubreuil who attended the workshop too. And finally, thanks to the students. Get ready for more Monique tomorrow morning!