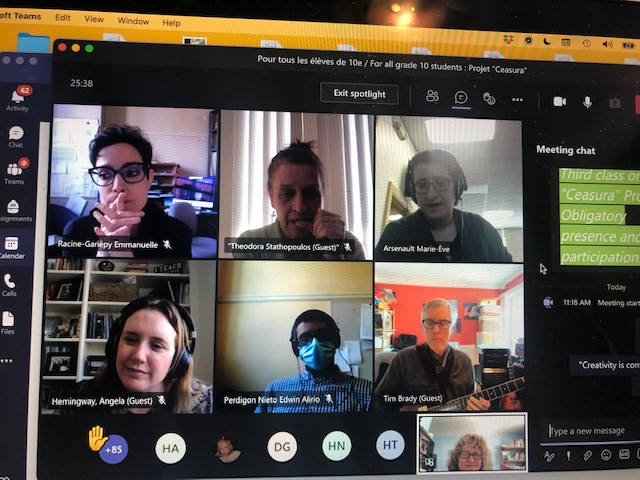 Hello and bonjour, dear blog readers! I threw in a little French in my greeting because today, I'm reporting in again on Ceasura, a super cool bilingual project I'm involved in with Grades 10 and 11 students at F.A.C.E. High School. In a way, the students are working in three languages -- English, French and Music, since they are Music students at F.A.C.E. As I've already explained, the term Caesura refers to a musical pause. My role in the project is to help students use writing to explore how the pandemic, a caesura in their lives both as young people and musicians, is affecting them. Once I'm finished my writing workshops, composer Tim Brady takes over. He's going to help the students set their poetry and prose to music. And hey, you can meet Tim Brady today too -- because he popped into the workshop I gave this morning to the Grade Elevens, as well as to the one I did yesterday for the Grade Tens. That's Tim towards the bottom right in today's pic!
Tim wanted to get a feel for what the students were up to -- but he also ended up offering some useful advice about sharing our work. I was asking the students to post some of their rough work in the chat section on their screens, and I pointed out that sharing our creative work takes courage, and that it's always tough to be the first one up. Tim added, "You've got to be willing to get up on stage and see what happens. The first 27,000 times is scary. It gets fun the 27th thousandth and first!" EXACTLY!! Thanks for that, Tim. Today, when I was telling the group something my friend author Joel Yanofsky once said to my class, "All writing is problem solving" -- Tim made another wise comment. He said, "All life is problem solving!" Ain't that the truth?
I'm gong to share some of the beautiful words the students came up with. I'll use just first initials for the students' names. A student named N was one of the first to read her piece. She began by saying, "I don't have a poem voice." Which prompted me to ask, "What is a poem voice to you? And could you write about that?" N, I sooo want to read what you have to say about a poem voice! Also, if I may add, N has a beautiful voice -- a poem voice!
My next two examples are both in French, but don't worry I'll translate for those of you who need it. A student named M wrote, "Je joue jusqu'à très tard" (which means "I play until very late"). Simple words, but there is something haunting and gorgeous about them, don't you agree? And a student I'll call K, wrote: "Chaque seconde, les bruits deviennent des sons" ("Every second, noises become sounds"). K, I think you have to be a musician to have come up with that line!
Today, teacher Ms. Le Saunier told the students, "Silence is music too." WOW, I had never thought of that, but somehow, I know what Ms. Le Saunier means.. Maybe hanging around with the F.A.C.E. crowd is making me a little more... well... tuned in!... to music.
A student I'll call A described the moment before her vocal performance, "waiting for my turn, the microphone at my lips." What A did so well in her poem was to write about the brief moments before sharing her song with an audience. A kind of caesura, no? A, keep working on your poem. I want to know more about that magic moment.
Special thanks to Ms. Stathopoulos for dreaming up the Caesura project; thanks to the teachers for sharing your talented, wonderful students with me; thanks to the students for being wonderful and talented and open; thanks to ELAN ArtistsInspire and the F.A.C.E. Foundation for making this project happen. Signed, happy Monique