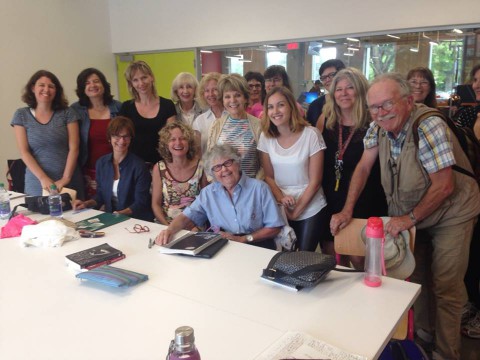 I'm happy to report that my first writing workshop of the season was a BLAST -- if I may say so myself!
Today was the last day of this year's NDG Arts Fest and I got to do a workshop called "Making Writing Fun" at the beautiful new Benny Library. I had 16 wonderful participants. In the classroom, students sometimes moan when I make them do writing exercises, but I had the opposite problem with today's group -- I COULDN'T GET THEM TO STOP WRITING!!
The participants were writers of all ages and at all stage of their writing careers. Several had published more than one book; there were poets and translators and fiction and non-fiction writers. There were also several teachers, including Professor Lewis Poteet, who directed my thesis when I was doing my Master's degree at Concordia University in the early 80s! What an honour to have my former teacher in the group today!!
The focus was on doing fun exercises to help loosen up our writing muscles. When we went around the table to introduce ourselves, many of the participants explained that they'd come to the workshop because they needed to inject some fun into their writing process. Several are already hard at work on books and they're at the point where they're running out of steam -- a normal, if uncomfortable stage in the writing process!
We wrote with our non-dominant hands; we made self-portraits with words; we made lists; and we worked with old memories and dreams. For me, the three-hour workshop went by in a flash. Thanks to the Quebec Writers' Federation for funding the workshop. Many thanks, also, to the participants -- you guys were amazing and full of energy. The writing I sneaked a peek at was REALLY REALLY GOOD. I already look forward to reading the work that may grow out of today's session. And thanks to all of you for getting my new workshop season off to a happy, FUN start!!