Hello Monday morning! It's just after eight and I'm already home after an early morning interview at Breakfast Television here in Montreal. (When the link to the interview gets posted later today, I'll add it to this blog entry.)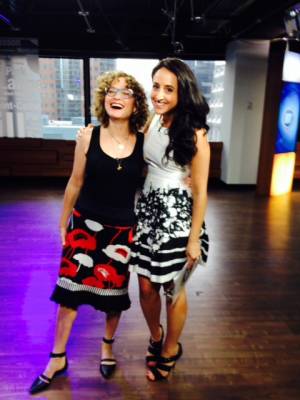 Reporter Laura Casella (that's us in today's pic) interviewed me about my books, but mostly about my tips for getting kids reading this summer. So, I figured I'd use today's blog entry to share those tips – especially since I came up with a few more on my way home!
1. Parents who want to encourage their kids to read need to model good reading habits. There is no better way to turn kids into readers than by showing them that you love to read, too!
2. Start a family book club. Agree on a book you all want to read. Read it, then discuss it at your next barbecue or family brunch.
3. Read a book; see the movie. The ideal one for this summer is John Green's The Fault In Our Stars, which recently came out as a movie. Discuss the differences between the novel and the movie. Which did you prefer? Why?
4. Start a two-word-a-day journal. This is my favourite tip on today's list. I used to do this with my daughter when she was little, but it can be done with kids of all ages (even grown-up ones!). At the end of the day, write down one word to describe how your day was, then another word to describe how you want tomorrow to be. One of the benefits of this mini-journal is that it encourages us to evaluate our days, and to give some conscious thought to our tomorrows.
5. Take advantage of the next rainy day to check out kids' authors' websites. Most of us have websites where, in addition to promoting our work, we talk about how we got into writing and offer writing tips. I wish that when I was a young aspiring author that that kind of material would have been widely available … if it had been, I think I might have gotten serious sooner about becoming a professional writer!