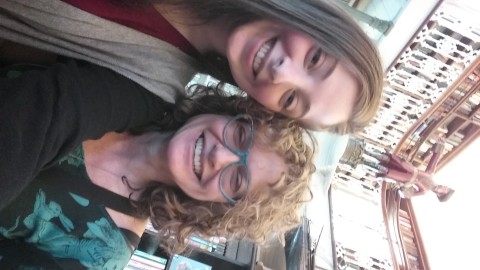 I am writing today's blog entry from the train -- it's just a little after 8 AM and I am headed home after a whirlwind day (and night) in Quebec City, where I was part of this year's imagiNation Writers' Festival. And was it ever fun!!
I called today's entry "Frabjous Day..." because the talk I did was about my favourite subject: Alice's Adventures in Wonderland and its creator Lewis Carroll. I wrote my MA thesis on the Alice books and I don't think it's an exaggeration to say that I've read Alice at lest 600 times -- and that every time I read the book, I learn something new!
The imagiNation festival takes place at the Morrin Centre in Quebec City. It's a beautiful old building. Believe it or not, it used to house a prison and next time you are in Quebec City, you must pop over for a tour. My talk took place in the library. Now, I've been in lots of libraries, but this was the most magical library I ever saw. It's not a huge room, but there are two floors of books and there are beautiful balustrades and to top it all off, there was tea in porcelain cups.
The sweet girl with me in today's pic is Emily Fiset, a student from Cegep Garneau. She was there with several classmates and their teacher Tracy Burns. Emily made me laugh when she told me, "I'm interested and the library is gorgeous -- and I heard there's tea!"
If you know me, you'll know I had no shortage of things to say about Alice, but in my opinion, the high-point came at the end of my talk when I asked the audience if they knew Lewis Carroll's poem Jabberwocky. Several people did and one brave soul, Katherine Burgess, came up to the podium to recite it with me. She made me feel like I was a kid again! Afterwards, I discovered that Katherine taught senior English for many years in Labrador, and that she's now the minister at St. Andrew's Presbyterian Church, which happens to be next door to the Morrin Centre.
That's not all I have to report. In the lobby of the hotel where I was staying, I met up briefly with fellow children's author Jacqueline Guest. Jacqueline was headed home to Calgary -- but not to worry, dear blog reader, I did a mini-interview with her which I am saving up for a future blog entry.
After my talk, I went to hear American bestselling author Jeffery Deaver talk about the writing process. His advice to the audience was "Outline! Outline! Outline!" An hour or so later, I caught Anna and Jane McGarrigle talking about their new book, Mountain City Girls -- and they said they never outline a thing. Which is one of the great things about a literary festival -- hearing different points of view and learning about what works for different authors.
Many thanks to Elizabeth Perreault and Jessica Kelly-Rhéaume for inviting me to the festival. I know what's most important is that the audience learns and has fun, but this writer HAD A BLAST!!