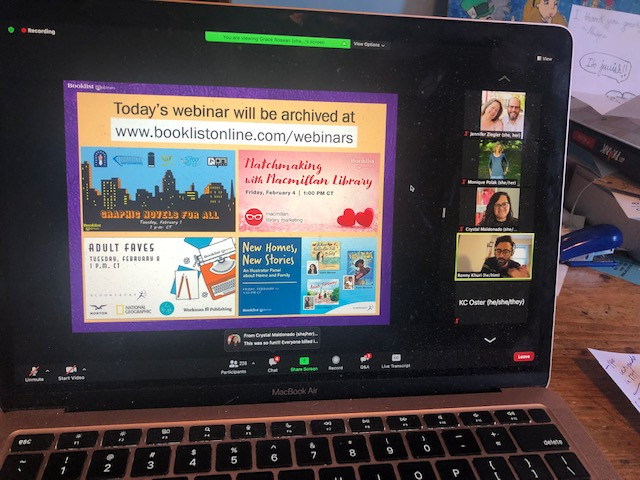 I just finished taking part in a kidlit panel organized by Booklist. The Topic was "Authors and ARC's" -- ARC's is an industry term for advanced reading copies. So basically all nine of us authors who took part were talking about our upcoming books, which for the moment exist only as ARC's.
I hoped I'd learn something and get some inspiration from listening to other authors -- but I ended up learning and feeling far more inspried than I expected. So how 'bout I use today's entry to share some of what I discovered? (I knew you'd say yes.)
Gillian McDunn kicked off the event by telling us about her new middle-grade novel Honestly Elliot (Bloomsbury). Elliott has ADHD, but he's in his element when he's in the kitchen. He's also a fan of a cooking show chef who hurls muffins at people when he's upset. Now that's a funny detail I will not forget! McDunn also talked about something I didn't know -- that "desperation pies" were popular during the Depression; they were basically made from ordinary ingredients in people's fridges or pantries.
Ellen Hagan blew us away with her reading from Don't Call Me a Hurricane (Bloomsbury). It's a novel in verse about a group of environmental activists. "I wrote it as a way," Hagan told us, "to address my own anxiety about climate change."
Julie C. Dao based her new novel Team Chu and the Battle of Blackwood Arena (Macmillan) on her relationship with her two younger brothers. "We love each other and fight with each other," Dao told us. She also showed us a family photo -- and those two little brothers aren't so little anymore!!
Leonarda Carranza was born in El Salvador, but now lives in Ontario. She has a Ph.D. in social justice and her picture book Abuelita and Me (Annick) is a beautiful exploration of social justice. Carranza told us she was inspired by a story her own abuelita (Spanish for grandmother) told her -- about being accused by a bus driver of not having paid her fare.
K.C. Oster is the illustrator of Rabbit Chase (Annick), a graphic novel written by Elizabeth Lapensée. I fell in love with Oster as soon as I learned that, like me, she is obsessed with Lewis Carroll's Alice books! In fact, Rabbit Chase is an Indigenous retelling of Alice in Wonderland. Woo-hoo!!
I was already a fan of Jennifer Ziegler's work, so it was fun to "meet" her on Zoom. Her new book is Worser (Holiday House) and she explained, "This novel is a love letter to words." She also said something that really resonated for me: "Writers are always working towards a truth -- something they're trying to understand about themselves." That's how it works for me for sure!
Crystal Maldonado was the funniest person on our panel. Her new book No Filter and Other Lies (Holiday House) is about "a fat Latina girl discovering herself" (these are Maldonado's own words!). She explained that she wanted to see more books about people who look like her -- such an important issue for every writer to think about.
I got so busy telling you about the others I forget to mention what I was doing on the panel -- discussing my upcoming middle grade novel For the Record. It's coming out in March with Owlkids. But I promise to tell you all about it in future blog entries. In the mean time, huge thanks to Owlkids, in particular to marketing manager Allison MacLachlan for getting me invited to today's panel. Thanks to Booklist for making it happen, especially to host Ronny Khuri and behind the scenes wiz Grace Rosean. To be honest, I'm a little sad it's over! At least I've got lots of great books to read -- and loads to think about!