Hello dear blog readers! I'm back from my second day of writing workshops at Laurentian Regional High School in Lachute. I'm feeling extra-happy -- I think because it was fun to get a second visit with Mrs. Vero's Grade Ten students. We got to go a little deeper into writing tips, stories, and of course, writing!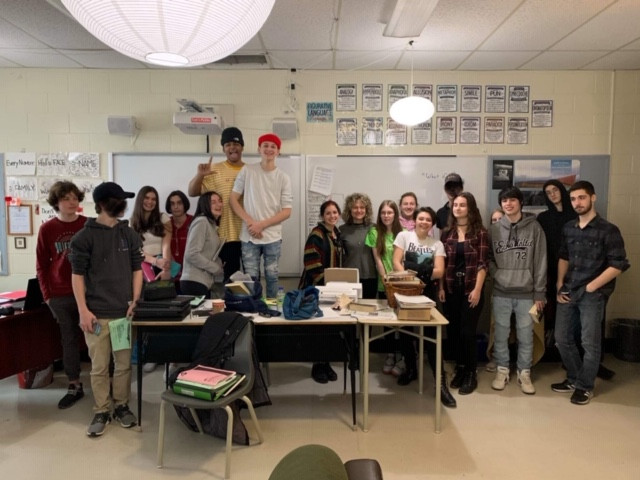 When I told the first group that I get some of my best ideas in the shower (and that lots of writers report the same thing), a student named Cloée said, "I fight with imaginary enemies in the shower. I think about what I'm going to say the next day to someone I'm in a fight with." Ooh, that made me happy. Not only because I think it's cool and creative, but also because I think that I might STEAL THAT BEHAVIOR and make one of the characters in my book do the same thing! Thanks, Chloée-- hope that's okay with you!!
When I do writing exercises I always tell the students who don't feel "into it" to write about how annoyed tthey feel, and how they hate my writing exercises! (I figure any kind of writing is good for the brain!) Anyway, that's what a student I'll call "F" did -- grumbled about my exercise. Only when I read his grumbling, I found a GORGEOUS LINE. F gave me permission to quote it here: "I am sad when I wake up and sad when I go to bed." F, I think you need to start writing a book and use that as your first line! (Also, you may find that writing improves your mood.) When I said to F, "You're a writer," he answered, "No thank you." Hey, I thought that was very funny -- another skill writers can use! Now quit grumbling, F, and use your talents!
A student named Graeme also showed his gift for writing. His piece was in pencil, so it was hard for me tor read... but it was worth squinting for! He described a "blistering day" and he wrote, "I'm in suburban hell." Excellent use of language that really grabbed my attention, Graeme, which is exactly what writers need to do!
The second group was also wonderful. (They're the students in today's pic.) Tianna (the student who stole my heart during last week's visit) also gets good ideas in the shower. "I've even thought of time travel in the shower," she told us. Later, when we were talking about dads, "Tianna said, "I've had four... concussions." But during that pause (indicated in the last sentence by my use of ellipsis -- the three dots -- I thought Tianna was saying, "I've had four DADS." Which made me think -- wouldn't that make a great opening line for a book? Tianna, get on the case!
Special thanks to Mrs. Vero for the invite to work with your lovely students, to the students for being lovely (and smart and warm), and to ELAN and their Artists Inspire program for making my visits to LRHS possible!