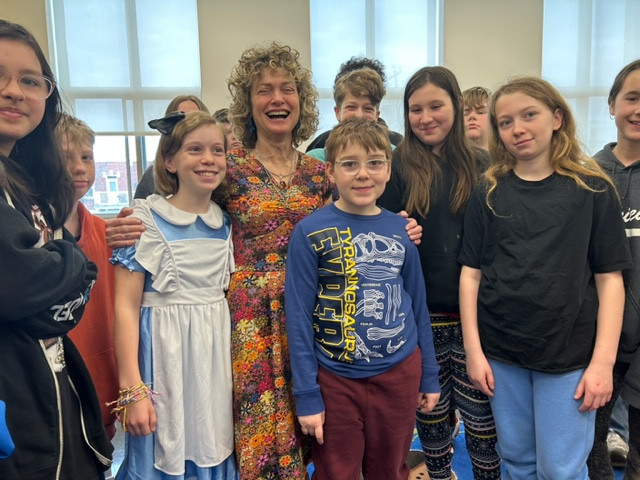 I'm calling today's blog entry "Happiest Morning at Riverview Elementary School" -- and if you need proof that I'm telling the truth, check out today's pic. It's true that I'm a big smiler, but hey, that's an even bigger smile than usual on my face!!
I was invited to Riverview by teacher Amanda Tulli, who wanted me to read and discuss my new picture book The Brass Charm with Grades Five and Six students. I had 50 minutes with the students -- and I think Ms. Tulli may have gotten a touch worried when I started giving writing tips. My plan was to only give a few, but I kept thinking of more! Anyway, I did manage to read and discuss the book too -- so I think I'm still in Ms. Tulli's GOOD BOOKS. (Haha to my own joke!)
Oh were the kids ever wonderful! Though I did have to beg to get a volunteer to take notes -- but Robyn (with a Y!) finally agreed and I let her keep the blue pen I lent her (it's from the Montreal Neurological Hospital and Institute, where my boyfriend works). Thanks for taking notes, Robyn! The students had lots of interesting comments and questions. Luka did a great job describing writer's block: "It's when you're writing a small paragraph and nothing comes to your mind." I told the students that my solution for writer's block is to keep writing (even if I write mean things to myself) until I get unblocked. (Just be sure to delete the mean parts afterwards!)
Emory had a great question about doing research: "How does it work if you're writing a fictional story?" I explained that even fiction requires research, and I gave the example of my novel Straight Punch, which required me to learn a lot about boxing (I even took up boxing!).
I explained to the students that even if they wanted to write a novel set at Riverview, they'd probably need to do research. "Was a teacher ever fired from this school? Or was there ever a fire here?" I asked the students. My question prompted a teacher, Ms. Illya, to tell us: "There was once a flood here." Hey, that would make a cool story! Find out more about what happened!
After my talk, a student same Sarah Rose told me, "I had a question, but I was too shy to ask." So I got Sarah Rose to tell me her question. Also, I should explain that I adore shy kids -- maybe because they are so different from me. One day, I want to write a book about a shy kid! Maybe I'll name her Sarah Rose!! Anyway, Sarah Rose asked: "How did your mother survive the Holocaust?" I told her that that's a sophisticated question, and that to find out, she'll need to read my novel What World Is Left. But I also explained that my mum survived because of my grandfather, an artist who was forced by the Nazis to create propaganda art.
If you know me well, you will know that I am a huge fan of Lewis Carroll's Alice's Adventures in Wonderland. Well, it turns out that yesterday was dress-up day at Riverview, but a student named Evelyn was absent -- so she wore her dress-up outfit today. And it was Alice!! That's Evelyn-Alice next to me in today's pic. And that helps explain PART of the reason for my giant smile!
Thanks to Ms. Tulli for inviting me to Riverview. Thanks to the kids for being A-MAZING. Read a lot, learn a lot, interview the old people who love you, and WRITE WRITE WRITE. Thanks for making me so happy today!