It's been a while since I've been in a classroom -- and now I realize how much I've missed it!
I had the pleasure of spending most of my day with students at Mother Teresa Middle School in Laval, Quebec. First, I worked with teacher Monic Farrell's Music class. I must say they were a lively bunch (you'll see some of them in today's pic) and they helped get me energized for the rest of the day. Only two of the students said they had an interest in becoming writers, but hopefully, I convinced a few others in the group to consider the writing life. A student named Manny wanted to know how I handle writer's block. I told him that mercifully, it doesn't happen to me very much, but if I do feel blocked, I JUST KEEP WRITING. Even if it is only to say, "gee this is tough. I'm getting discouraged." In other words, I'd write through the block. We talked a little about determination and a student named Dylan gave me a look that told me he knows all about determination. Later, Dylan told me his dream is to become a chef. I told him that'd make great stories -- so maybe he can be a chef who writes on the side.
I spent the rest of the day with Miss Farrell's accelerated learners. I don't think I've ever worked with such a keen group of young writers. Several came in at lunch to share their work with me and to get some feedback. Angel is working on a werewolf story; Alexis is more interested in the place where fiction and non-fiction meet. I told both of them their work looks promising, full of energy and fun, but that they both need to really get to know their main characters. In case you're reading this entry, Angel and Alexis, a good exercise to learn more about your main character is to write down 50 questions (whatever comes to mind -- favourite food, religion, kind of house he or she lives in...) and then work out the answers. We writers need to know all we can about our characters.
Miss Farrell is doing some super work with her students. They are keeping writers' notebooks, critiquing each other's work, and rewriting. Way to go, Miss Farrell and your students!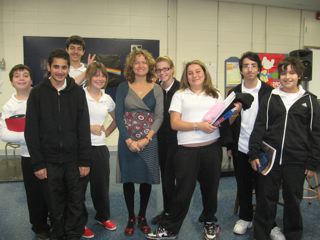 Thanks for inviting me to Mother Teresa today. Special thanks, too, to principal Mrs. Villalta who attended part of my workshop; to Joan Wasserman, the super English consultant for the Sir Wilfred Laurier School Board; and to Mr. Bilodeau, who was videotaping the visit.