I'm writing this blog entry from the train -- we're about to leave Quebec City. I was in town to work with three Grade Nine classes at Ecole Secondaire de la Seigneurie in Beauport, a suburb of Queec City. It was my fourth visit to the school -- so I must say I feel very at home there!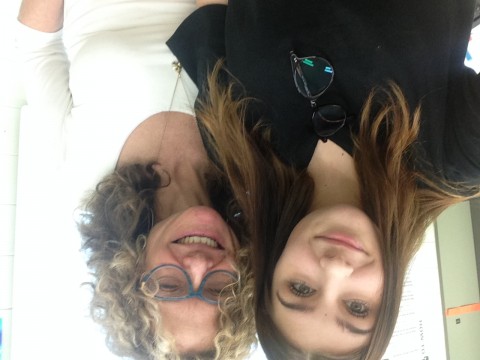 My morning started with a laugh when a student named Emilie (tht's her in today's pic -- sorry that it's upside-down) asked, "Why do we need to write down your tips?" My first answer was BECAUSE, but then I added that I know that if I don't write things down, I forget all about them! And I do hope the students I met today will remember at least SOME of what we talked about.
Students in all three classes I visited are reading my historical YA novel, What World Is Left -- and so, though I talked about writing tips in general, I also told the students about the story behind the story they are studying. For instance, I told them that my mum, whose story inspired the novel, knew the real Anne Frank, but that my editor felt it would be a bad idea if the real Anne Frank appeared in my novel -- so we changed her name to Eva.
I explained that one of the reasons I like to do school visits is that I believe it's important to tell the truth about writing. When I was 14 and 15, the ages of the students I met today, I never met a professional writer. So when I do school visits, I try my best to tell students what I wish someone had told me way back then! Such as that WRITING IS FRUSTRATING and IT IS NORMAL TO BE DISAPPOINTED WITH YOUR WORK and SOMETIMES YOU FEEL LIKE GIVING UP!!
A student named Fréderique wanted to know if my mum ever read the book I based on her story. The answer was: not at first, but eventually. I had to explain to my mum that I was fictionalizing her story in order to make it appeal to young readers. I know my mum would have preferred if the girl in my story did not question her father's actions, but when I told her what I planned to do, my mum gave me her blessing. She said, "Do what you need to do to make it the best possible story. But I won't read it." Only, she did end up reading the book, and in fact, last week, she told me that she was going to start re-reading it all over again.
Elodie (of the upside-down pic) wondered whether writers need to be selfish. I must say that remark gave me pause. I told Elodie that writers need to be RUTHLESS. But you know what? It's my own mum, who was an amazing storyteller, who taught me that the story comes first!
With two of the groups, I did writing exercises to help them access old memories. "Our memories are stories asking to be told," I said to the students.
And a student named Gabriel helped me to translate the only writing rule I really teach (I'm not a rules-sort-of-person): "Show; don't tell." En français, it's "Montrez; pas dire."
So, many thanks to teachers Yves Lord and Maxime Jacques-Gagnon for sharing your students with me. I had a great day with all of you. Thanks for your interest in a book that is so close to my heart. And thanks to the students -- you guys were wonderful and I miss you already!