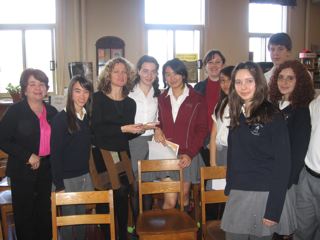 I spent part of this afternoon at Royal West Academy in Montreal West. It was a special visitfor a couple of reasons. First, my daugher graduated from Royal West ten years ago, so it was kind of like going home. And also because I was speaking about my new book, The Middle of Everywhere, which is set in Nunavik. Fifteen grade eight students from Royal West will be traveling to Salluit in Nunavik later this April. Library technician Goldie Adler came up with the idea of inviting me in to talk to these students as well as other grade eights about my experiences up north. And let me tell you the North is one of my favourite subjects!
I read a little from the book, but mostly I shared my impressions of the villages I visited and the Inuit friends I made there. I told the students about how quiet Nunavik is, and how much open space there is. And of course I made them promise to bring pen and paper so they could take lots of notes -- and maybe even send me an e-mail when they get there.
Teacher Chantal Clabrough will be going up north too; when she was a student she spent 10 days in Iqaluit so she already has a taste for life in the north. Chantal turns out to be a writer, too, with a special interest in writing about food.
A student named Kayleigh told me she hopes to see the Northern Lights; another student named Kiri seemed to be familiar with several Inuttitut words. Kiri has been e-mailing several teenagers in Salluit. "I want to eat whale blubber," Kiri told me.
When I do school visits, I'm supposed to get young people energized about writing -- but you know what? School visits like the ones I did this week get me energized, too! Those 15 young people are privileged and I think they have a responsibility to capture their observations through writing. Don't you agree? Here's hoping they won't be too busy in Nunavik to send me a note. And here's hoping, too, that come May I'll get to meet the students from Salluit when they come to check out Montreal.
Special thanks to Goldie Adler for inviting me in -- and to the students for being such focused listeners... and for admiring my ptarmigan foot (that's what I'm holding in today's pic. And oh, that's Ms. Adler in the pink blouse and Ms. Clabrough in the back, wearing a red top with a jean jacket over it.)