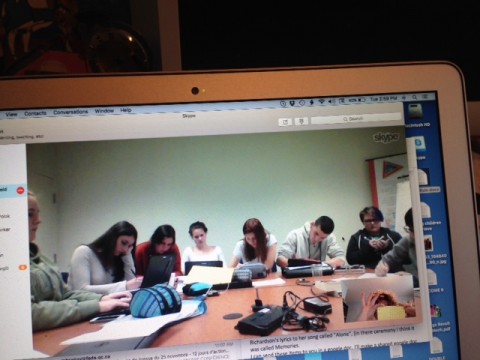 I spent part of today with a group of keen, talented Grade 11 students from Laurentian Regional High School in Lachute, and their English teacher Mrs. Vero. We are working together on a Blue Metropolis Literary Foundation project called Heroes in My Backyard. The goal of the project is for students to make a one-minute film related to the subject of war and heroes -- and I'm helping with the script.
I had two one-hour sessions with the students -- one this morning with Mrs. Vero present, and one in the afternoon with just the students. And though you might think it would be hard to do a virtual brainstorming and writing workshop, thanks to the wonders of Skype, it worked!
This morning, I shared a bunch of writing tips -- such as that it's important to make writing a habit, that reading is every bit as important as writing, and that revising is essential. This afternoon we spent our time bouncing around ideas for a possible narrator. We also have a possible title for the project. It's "Dear Future" and it was invented by a student named Cassandra. Another student, Liane, turns out to already be a talented filmmaker. A short film she posted on line entitled "NUmbers" has already had 36,000 hits! We talked about using a female narrator for the film, and Liane suggested our narrator might be a girl who becomes a drummer for the army. Since our story is set in the past, the girl would have had to pose as a boy. Which makes for all kinds of interesting story possibilities!
As yoy can probably tell, I am starting to get excited about this project. What's especially fun is the fact that it's a group collaboration. I asked the students to do a short writing exercise in which they imagined being the girl drummer. They came up with some beautiful material. Haily wrote about how the girl traveled "through nights and into city" -- which I found beautiful and poetic. Brianna pictured a scene at a loading dock, where her narrator "tastes the salt of her tears" and Brad imagined gunfire "choking" his narrator's lungs.
So... for now, we're just tossing around ideas. Playing. For me, writing is a curious mix of work and play. Thanks to the students I worked with today for reminding me of the playful part -- and for working hard. I look forward to reading more of your work and to our film project!