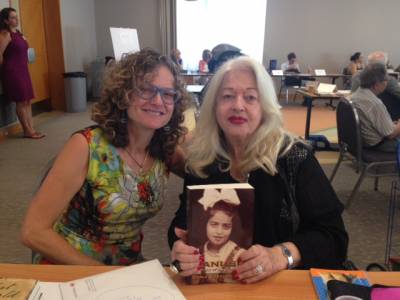 "Every Holocaust story is amazing," Dana Bell told me yesterday. That's Dana is the pic that goes with this blog entry. We shared a table at yesterday's Holocaust Survivor Memoirs event organized by the Montreal Holocaust Memorial Centre. I must admit that when I first sat down next to Dana, she was deep in serious conversation with someone else and I didn't expect that we would hit it off -- but you know, sometimes life brings happy surprises, because by the end of the afternoon, Dana and I were chatting like old friends. What a fun, inspiring and wise woman!
Dana is the author of Danusia: The Story of a Child Survivor. It took Dana nine years to write this book and in the end, she decided to self-publish it. (Which led us to a interesting discussion about the world of self-publishing). In her book, Dana describes what happened to her and her family after they were deported to Siberia. Dana was only two years old at the time.
Dana told me that for her, the biggest compliment is when her readers say, "When I read your book, I heard your voice in the room with me." I consider that high praise. As I tell my students, one of the hardest and certainly one of the most important parts of writing is finding your voice. For me, I always feel like my stories begin to come alive when I hear my narrators' voices in my head.
Like me, Dana enjoys doing school visits. She also speaks to visitors and classes of students at the Montreal Holocaust Memorial Centre. I hope to catch her in action one of these days. In the mean time, I look forward to reading her book. And I couldn't agree more with Dana -- every Holocaust story is amazing.