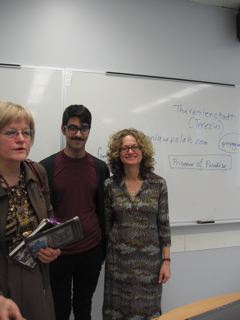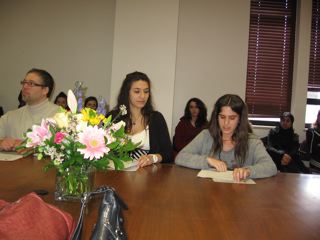 After my class this morning, I zipped over to Vanier College to participate in the school's 18th Annual Kleinmann Family Foundation Symposium on the Holocaust and Genocide. First, I spoke to students in my friend Marcia Goldberg's "Short Stories for Women" course. Marcia had invited me to come in and discuss my book What World Is Left, a historical novel based on my mum's experience in a Nazi concentration camp. I tried to be as honest with the students as possible -- telling them about the challenges of interviewing a relative who has suffered in ways most of us can barely imagine.
That's Marcia with me in today's first pic; in between us is a student named Anthony who, at the end of my talk, thanked me on behalf of his class. (Hey, I thank YOU GUYS for being such an attentive kind audience.)
On my way out of Marcia's classroom, a student named Nadia told me that there is a Holocaust story in her family, too. Nadia's great-grandfather, who lived in Italy, dug an underground cave to help hide some of his townspeople from the Nazis. When one of Nadia's relatives returned to the site last year, she noticed there was still a swastika on the building -- left over from the Nazi occupation, and a sign that the Nazis had searched the building. Thank goodness they never discovered Nadia's great-grandfather's cave or the people who were hidden there. I told Nadia she needs to do more investigating so that one day, she too, will be able to write her family's story.
After class, Marcia and I zipped off again -- this time to attend a Holocaust Memorial Commemoration ceremony in the college boardroom. One of my favourite people -- Esther Kleinmann, who, together with her late husband Peter, is responsible for the Holocaust Symposium -- was there. Faculty and students read essays and testimonials, and there was a hauntingly beautiful performance of the theme song from Schindler's List, performed by Vanier clarinetist Eric Braley.
I took special pleasure in hearing Vanier student Erica Lighter read a reflection she'd written for her Humanities course. That's not just because Erica read well, but because she's my niece -- and in her essay, she mentioned how much she admires her "Oma" (my mom)! (That's Erica in the grey sweater in today's second pic.)
There are many more things I can tell you about my experience at Vanier today, but I'll add just one more thing... and that's that I felt very hopeful to see students from all backgrounds at today's ceremony. Sarah el-Khaldi, a Concordia University student who happens to be Muslim, read a moving piece about Auschwitz. Vanier student Sarah Rassi (Sarah is sitting next to Erica in the second pic) wrote a reflection about a Holocaust survivor, comparing her to Sarah's Lebanese grandmother. It does my heart good to see that it isn't only those of us whose families have been personally affected by the Holocaust who recognize that it must be remembered and its lessons passed on.
A very special thank-you to my friend of many years, Neil Caplan, long-time Vanier Humanities teacher and symposium coordinator. Thanks for a really special day -- and for inviting me to share in it.