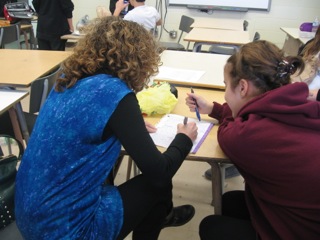 I would probably be a better teacher -- and a nicer person -- if I was more patient. Only I'm not!
Which is why it is pretty delightful when the students I work with "get it" quickly. That's what happened to me today when I went to work with two of Monic Farrell's Sec. I classes at Mother Teresa Junior High School in Laval.
I had visited both groups earlier this fall, so today was a working day -- meaning the students showed me writing they are working on, and I made lots of comments and suggestions for improvement.
I kept a running list of suggestions on the board (thanks Craig, for writing some of them down for me in the first class). These suggestions included: read your work aloud (it helps you spot errors); eliminate adverbs wherever possible; and shuffle the contents of your sentences around as a way to achieve greater clarity.
Anyway, Miss Farrell's students really GOT IT -- and that made me super happy. I noticed how several students crossed out adverbs they decided were unnecessary. One group who were working on a piece about La Ronde (for out-of-town readers, that's our giant amusement park) responded to my criticism that their writing sounded too much like a travel brochure. Their re-write was much better than their first draft and included their own "voices," which helped to bring their writing to life.
A few students even spent part of their lunch hour with me, showing me more work. That's me and Dalia in today's pic. Dalia is working on a lively piece about the imaginary break-up of her beloved band, One Direction. Sarah took the pic -- hey, thanks Sarah for putting my camera on the right setting.
It's true we don't always "get" things straightaway when they are explained to us... sometimes, we need to spiral around in our errors before we can make progress... but it sure is nice to get to see progress happen when I'm in a classroom. Thanks to Miss Farrell for inviting me back and sharing your talented students with me, and to all the students I worked with today -- you're getting it!!