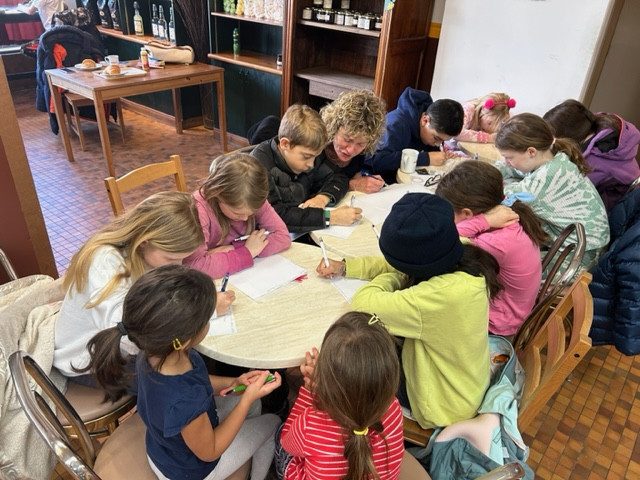 I don't think I'm supposed to have the most fun of everyone at my writing workshops. But that MAY have happened today. Let me explain from the beginning. I love bakeries. And I love kids and I love writing. Today was my second of two writing workshops offered through the Montreal West Children's Library. I was helping kids prepare their submissions for the library's Bill Foster Writing Contest. Well, because the school where the library is located has been undergoing renovations, today's workshop was moved to the Patisserie de la Gare, a bakery in Montreal West. So not only did i get to work with bright, fun, creative kids, I got to smell bakery smells and drink tea, and even grab a tuna sandwich!
In today's pic, you can see us gathered around a table at the Pat (which is what locals call the bakery). Several students came with stories they wanted me to critique. Others invented stories on the spot. And one student, Clara, won the contest last year. As I told her, she could have been running the workshop instead of me!
As usual, I will use today's blog entry to share some of my favourite moments from today's workshop. First, I heard a number of impressive words. Ian, who is working on a fun story about a cat named Claws, used the word "murky" in his story. I love murky! And Charlotte used the work "bleak" -- which I also love.
Because some students needed a little inspiration, I tried a writing prompt -- asking them to remember a moment when they first learned something important. Simone remembered learning to tie her shoelaces. Simone wrote, "My mom gave me a trick to do it. It had something to do with 'under the bridge' and 'over the tree.'" I loved that memory and suggested to Simone she ask her mom to give her the exact wording of the trick -- a detail like that adds a lot of life to a story. (Not to mention that it could help other kids learn to tie their shoelaces!!) Charlotte wrote about learning to do a half-pirouette, which is cool because her contest entry is related to the ballet world.
While we were working on the exercise and while I was giving feedback on the kids' ideas and works-in-progress, Simone came up with a whole new idea -- a story about a cat who does headstands all day! Fun!! That prompted me to pull out my ideas notebook which I happened to have in my bag. I told the kids that for writers, ideas are like gold or diamonds for miners. We need to collect them in a safe place!
The students have until April 23rd to submit their entries. Entry envelopes are available at the library. I also promised the kids that they could each send me one paragraph and one question -- but it has to be by the end of March since I'll be away from my desk for part of April. But don't worry, I'll have my ideas notebook with me at all times.
It was sooooo much fun to work with these students. Thanks to all of you for being delightful and so creative and such good listeners. And because the clock jumped forward overnight, my young writers lost an hour of sleep -- but they were wide awake for this morning's session. Thanks to all of you, and to librarian Ekaterina Valkova-Damova for the invite, and also to a special friend, my former student, translator, author, mom and library volunteer Sarah Brunel for being there today with her kids, and for connecting me with Ekaterina.
So kids who use the Montreal West Children's Library -- what are you waiting for? Get to work on those entries for the Bill Foster Contest!