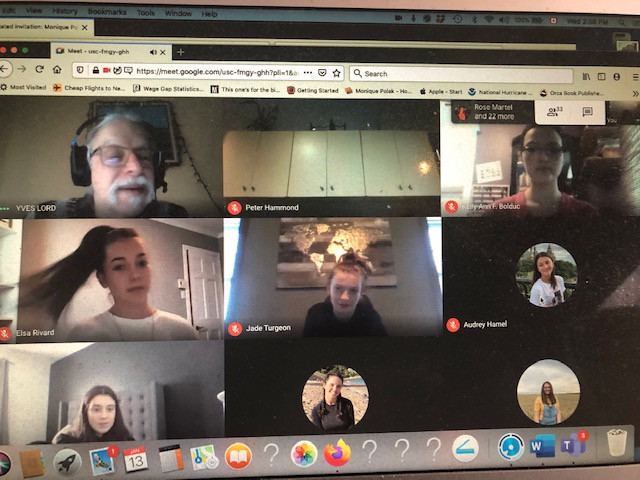 For many years, I have visited Ecole Secondaire de la Seigneurie in Beauport, Quebec to work with Mr. Lord's students. Today, because of the COVID-19 pandemic, the students and I settled for a virtual visit. When Mr. Lord and I were reviewing our plans yesterday, I told him that if he felt the virtual visit wasn't working, he could fire me! But guess what? He didn't!
I worked with Mr. Lord's two Secondary Three "Langues-Etudes" students. I told the students I'm a little jealous of them because though I speak French well, when I try to write in French, I make many errors. These young people are already more bilingual than me!I
I'm going to share a few highlights of today's visit. When I told the students in the first class that writers need to be curious, a student named Félix said, "I am curious about sports. I love to learn the history of sports like basketball." I told Félix there's a huge demand for kids' books about team sports, including basketball -- and that maybe he should write one! Afterwards, when I was explaining that writers hate their first drafts, I caught a student named Eve nodding -- which made me happy because her nod indicated she knows the feeling. And as I explained, hating your first draft is a sign that you are meant to be a writer! I also liked when, while I was talking about finding the story you need to tell, a student named Emryck said, "My life is a story. Like everybody else's." I told Emryck that I love "My Life is a Story" for a book title. Don't you agree?
The second group was special because they were all young women -- so I threw in a little life advice along with my writing tips. I shared my view that it's important for women to be able to earn a living -- so they can always be independent. Even if they choose one day to stay home to raise kids, I think it's important to know they can earn a living if they have to. My favourite moment with this group was when I used the chat function to ask them, "Are you curious? Do you know the smell of trouble and are you able to keep rewriting even when you think you can't do it anymore?" AND GUESS WHAT HAPPENED? TWELVE people (including Mr. Lord) answered yes. The others were: Coraline, Maria, Rosalie, Floriane, Jade, Emilie, Lena, Beatrice, Maxim, Léonie and Andréanne. For me, answering yes to those questions means these people have what it takes to become writers. So that's a lot of writers in one classroom!
Hopefully, I'll be back in person next year in Beauport. If I am back, I hope the students I met today will come to say hello (or bonjour) -- maybe when I am eating lunch in the school cafeteria. Thanks to Mr. Lord for arranging today's visit -- and for not firing me!! Thanks also to the students. As we say in English, "You made my day!" Stay safe, stay healthy, read and write. See you next year!