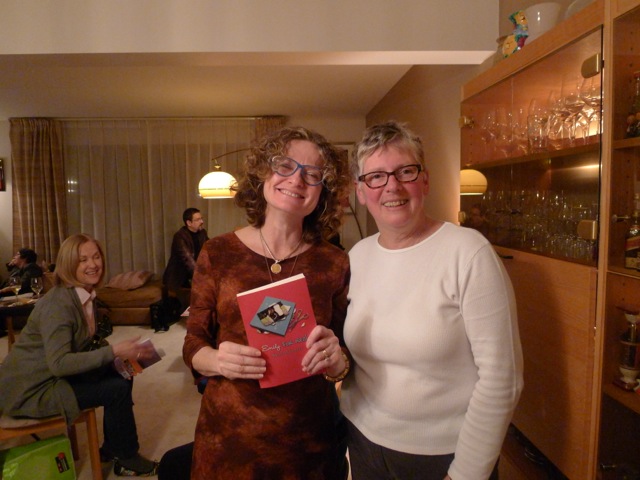 Last week, my friend and fellow teacher Mary Eva invited a bunch of kid-lit fans over to her house to meet Nova Scotia YA author Sylvia Gunnery.
I'd had a long day at work, but as you can see from my happy face in today's pic, I was really glad I made it to the party and got to meet Sylvia.
Sylvia -- who is a retired high school teacher -- talked a little about her newest YA novel, Emily For Real (Pajama Press). She told us it was inspired by one of her former students, a boy named Theo who criticized Shakespeare for being "a pervert"!
Sylvia also did a little writing exercise with us. The exercise is similar to one I use with my own students to help them develop characters. When we moved from one part of the exercise to another, Sylvia told us, "Make a squiggle on your paper!" She then explained that for her, squiggles work better than straight lines. She said, "A squiggly line means we're at the messy stage." I thought this was a brilliant idea -- especially since, for me, so much of the writing process is messy. By that, I mean mentally messy....
I had the pleasure of giving Sylvia a ride back to where she was staying -- and I must say we had fun together in the car. I warned her, "Don't say anything funny or super-smart on the highway because I won't be able to write it down!" Of course, Sylvia didn't listen. She said all sorts of funny and super-smart things.
Once we got off the highway, I pulled out my notebook and asked Sylvia to tell me what she was up to in Emily for Real. Here's what she told me: "I snuck behind my characters as they had their ordinary lives."
So, today, I began reading Emily For Real. It opens on the day of Emily's grandfather's funeral. Emily has just taken her scissors to a pile of photos of her and ex-boyfriend. After she cuts his face out of the photos, she examines the images of herself that are left and thinks: "I look stranded." What I like about that line is it's simple and true... and it makes me want to know Emily better.
So here's to sneaking behind characters as they have their ordinary lives. And to squiggly lines!