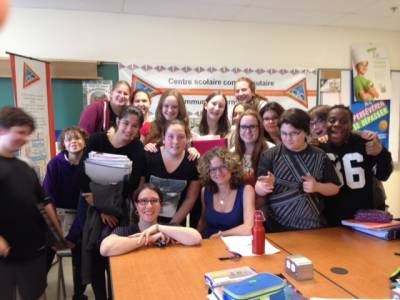 See that sweet young woman kneeling next to me in today's pic? It's Lea Beddia -- whom I taught at Marianopolis College some 15 years ago. Today, I drove northeast of Montreal to Joliette, where I worked with Miss Beddia's Grade Seven English classes at Joliette High School. Miss Beddia (Lea to me!) is just as smart and funny as I remember her and I must say it was a special delight to see one of my former students doing such great work with her own students!! I know I shouldn't take credit... but I still do!!
I turned up at lunch time, so I got to hang out with Miss Beddia and some of the school's budding authors. Afterwards, I worked with about 40 students, sharing writing tips and, of course, telling a few stories. Then Miss Beddia divided the students into smaller groups so I could give them some one-on-one advice about the creative writing pieces they have been working on.
Whenever I do school visits, I like to share highlights of my day -- so here they come! At lunch, a student named Chloe said, "If you write about yourself as a character, you can find out more about yourself." That comment led those of us sitting at our table to discuss the connection between ourselves and the characters we create. I think that in some way, our characters are reflections of us -- and that sometimes they represent the parts of ourselves we seldom ,if ever, get to express! Why else do I keep writing about troublemaking boys?!!
Many of the students at JHS spend a lot of time on the schoolbus. Julia (who kindly corrected some French notes I am preparing for a radio column next week -- grand merci, Julia!) told me she uses her time on the bus to "observe people and imagine their stories." Spoken like a real writer, Julia!
When I was sharing writing tips, I asked the students, "What do you think happens when I write?" A young man named Nikolas came up with a great answer. He said, "You make a lot of mistakes!" And that's totally true -- and helps explain why I spend even more time REwriting than I spend writing my first drafts!
I also met a student named Blanche. When I told her how much I liked her name, Blanche told me her middle name is Neige. For those of you blog readers who do not speak French, that translates into "Snow White." Beautiful, don't you agree?
During a short writing exercise, Sebastien wrote about the last time he saw his great-grandmother. Here's a line that gave me shivers from Sebastien's piece: "Just by shaking her hand, I knew something was wrong."
I wish I had taken notes when I was looking at the students' stories -- but I was too busy reading and trying to provide some useful feedback. But I do remember a few of the suggestions I came up with: add dialogue to add life to your writing; show -- don't tell; take the reader with you by providing sensory details; and lose the adverbs.
Thanks, Miss Beddia, for staying wonderful all these years and for sharing your classes with me today; thanks Miss Murphy for letting us use your beautiful Community Learning Centre; and thanks to the students for working so hard! You guys were great!!!