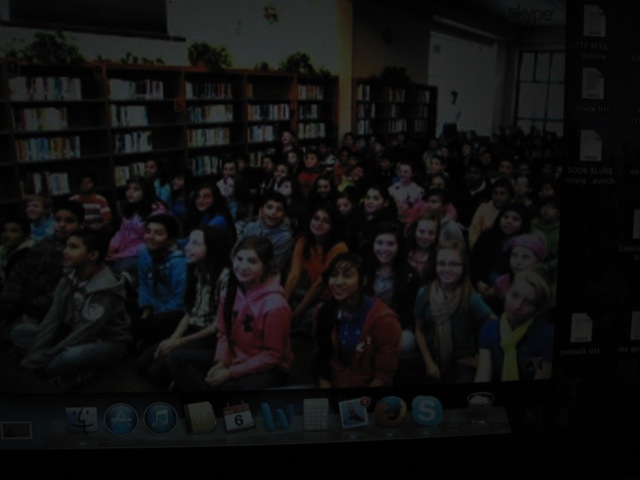 Okay, okay, I'll admit it -- I didn't really GO to Texas. Not in the flesh anyway. But I did get to do two wonderful Skype visits with students at Dumas Intermediate School.
The students have been doing a six-week unit on the Holocaust and were familiar with my novel, What World Is Left. So I had the pleasure of talking to them about this book, which is so very close to my heart since it is based on my mum's experience during the Holocaust.
The students were terrific. Both groups listened carefully and sensitively, and the students had terrific smart questions.
I did the first Skype session from my home, but I did the afternoon session from my parents' house -- which meant the students got to meet today's real star: my mum!
I tried to explain to the students why stories mean so much to me and how, even though I am a bit of a speed demon, I slow down for stories -- especially ones that make my arms tingle! I also talked about the power of secrets and encouraged those students who have grandparents to get their grandparents' stories. (Sometimes, grandparents are more open with their grandkids than they are with their own kids.)
Two students this morning asked questions I was unable to answer -- but I told them I'd ask their questions to my mum and report back on what she had to say. So, here goes! Liliana asked, "Did your mother ever come close to losing hope?" I would have predicted my mother would have said yes to that question, but when I asked her, her immediate response was, "No! Never!" Daniela had another tough question. She asked, "Did your mother ever regret being a Jew?" My mother answered yes to that question. As I explained to the students, she was only a couple of years older than them when she was first sent to a Nazi concentration camp. She once told me that she was called "dirty Jew" so many times that she really thought she was a "dirty Jew"! Even writing that makes me sad -- but I think it's important to know these things. If we know them, perhaps we can help prevent them from ever happening again.
Just seeing the students' open, kind faces moved me. I read from the book to both groups, and I noticed how still the audience was, how hard they were concentrating. I know the kids clapped for me at the end of my presentations, but really, they deserved the applause.
I feel a little bad that the morning group didn't get to say hello to my mum, so I'll do my best to arrange another quick visit one of these days from my parents' house. I think it meant a lot to my mum to know that the next generation is interested in the experience of those who survived the Holocaust. Remember what she told you: that you must never give up hope. And remember what I told you: that life requires courage, and that a sense of humour -- even in difficult times -- can be a sign of courage.
Thanks to Rhonda Artho and Cathy Craigmiles and everyone else who helped organize today's Skype visits. Now I need to find myself a way to come and meet you all in person!!!