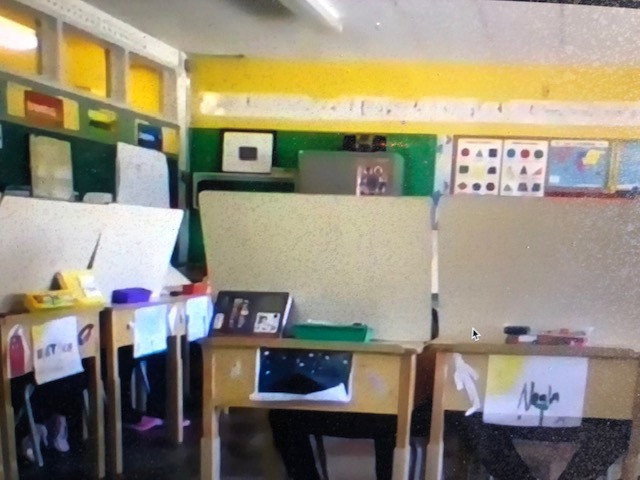 There's a lot I like about giving virtual writing workshops... but there is one BIG challenge. And that's coming with interesting pics for you, dear blog reader!
So today, when I was asking the Grades Three and Four classes at St. Mary's Elementary School in Longueuil whether they had pencil and paper for taking notes, they all opened up their desks -- and I snapped this photo. At least it makes a change from boxes on a Zoom screen, right?
I spent the day with students from kindergarten to Grade 6. And I pretty much treated them -- even the youngest ones -- the way I treat my students at Marianopolis College here in Montreal. And none of the kids at St. Mary's seemed to have any trouble following me!
As usual, I'm going to share some highlights from my day.
I had to laugh when I asked one of my favourite questions, "What's the cousin of writing?" (The answer I was looking for was "Reading.") Well, a student named Sereh called out, "Sleeping!" Thanks to Sereh, I threw in an extra point about the importance of dreams, and how many writers (and painters and musicians and filmmakers) use their dreams as a source of inspiration.
When I said that I get some of my best writing ideas when I'm in the shower or out for a run, or just making tea, some students in Ms. Vanessa's class posted in the chat that, "We get our best ideas while washing our hair!" Hey, I'm going to try that next!
Patrick told us his dad's girlfriend wrote a journal called "Anxiety Journal" and that she's posted it on-line. I'm a fan of every kind of journal, and that one does sound interesting -- and important since we know that anxiety has been on the rise during the COVID-19 pandemic.
Damien asked, "Why do fiction stories always end well?" I told him that I tell my students HAPPY ENDING ARE OUT OF STYLE. For me, a story that ends "well" means that the main character or characters have GROWN in important ways. Growth will never be out of style!!
I worked with the Grades Five and Sixes next. I told these kids that for me, writing is almost always hard. Amishi agreed. She said, "Writing gets hard when you write too many pages. Then your pencil starts getting low." I had never thought about writing that way, Amishi, but it's true!
Momen (cool name!) told me how his older sister told him, "Make a journal about how you're surviving the pandemic. It would be really amazing." I TOTALLY AGREE with Momen's older sister.
I ended my day with the kindergarteners, and Grades One and Two groups. I went through ALL my writing tips with them, and then there was time for a few questions, and even a mini-writing exercise. The questions were... well... amazing. Vicky asked, "How long does it take to write a book?" I explained that that's a question I tend to get from much older students -- the answer is anywhere from six months to a year, but then I can easily spend another year re-wriitng and then re-writing some more! I'll end with Swara's question -- "When we write, are we supposed to use our imagination or write what really happened?"
Now THAT is not the kind of question I expect from a Grade Two student. I told Swara maybe she should transfer to Concordia or McGill! For me, writing fiction lets me combine imagination and my own lived experience. So, my personal answer would be, "a bit of both."
Many thanks to Rachel Wagner at the South Shore Reading Council for organizing today's visit; to Annie Beauregard of the Seaway CLC for her help; thanks to the many teachers I worked with today -- Ms. Paluzzi, Ms. Chanelle, Ms. Fortin, Ms. Vanessa, Ms. Gerlick, Ms. Thibault, Ms. Wong, Ms. Bobal, Ms. Mason, and Ms. Roselli for sharing your kids with me; a special extra hug for Ms. Paluzzi, who WAS MY STUDENT AT MARIANOPOLIS!!; and thanks to the kids, for being sooo sooo smart. Here's to all of you!