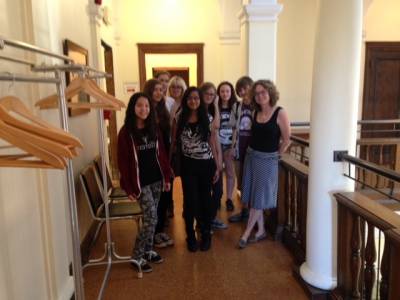 In two weeks' time, members of the Jane Austen Society of North America (JASNA) will gather here in Montreal to spend Thanksgiving weekend discussing Austen's 1814 novel, Mansfield Park.
But in a small way, my colleague Mary Frauley and I got the conference off to an early start -- because today we did a one-day literature and creative writing workshop (officially called the J. David Grey Young Writers' Workshop) for local teens. As you will have guessed, the focus of the workshop was Mansfield Park. Mary started the day with a lecture and lively discussion about the novel. She talked about how many of the novel's themes -- friendship, romantic love, the meaning of home, how we are affected by money and social standing -- remain relevant today. As Mary told the group, "A writer has an obligation to set things up and maybe wind them, then the writer stands away."
That pretty much sums up how the group spent the afternoon -- working on their modern-day renditions of Mansfield Park, setting things up and then letting their characters take over. I had the lovely job of reading and responding to their early drafts.
I should mention that it was a perfect fall day in Montreal -- but the eight teens who turned up for today's workshop never complained about being stuck indoors at the Atwater Library where the event took place. In fact, they didn't want to stop writing... and most of them were going to go home and keep working on their stories!
Mansfield Park is about Fanny Price, whose life changes when she goes to live with her rich relatives. The fact that she is an outsider at Mansfield Park means she sees the goings on there more clearly than anyone else.
Several of the students decided to write about outsiders.
Emma, a Grade Nine student from Macdonald High School, pictured her Fanny in an insane asylum (talk about a cool setting!). Here are a couple of lines from Emma's story: "Her family left Fanny in the hands of the orderlies. She was certain that she would die of fright all alone. Then she met him." As I told Emma, those lines really catch my attention and make me want to keep reading.
Michelle, a Grade Eleven student at Heritage Regional High School, came up with a creative approach to the assignment -- her Fanny wrote a thank you letter to her best friend, a character Michelle was going to base on the novel's Mary Crawford.
And Ishini, a first year student at Marianopolis College, described a Fanny who had recently been placed in a new foster home. Ishini did a great job of capturing the foster home in a single sentence: "The room smells of pot roast." I thought that description was a great example of SHOWING, NOT TELLING!
So you can see why I felt privileged to spend my day with these talented and passionate young writers. They have until the end of the week to finish their pieces of writing. Then their work will be entered in a contest. In additon to modest cash prices, three winners get a very cool invitation: to the upcoming JASNA conference!
Thanks to our eight young writers, to Mary for pitching in, and to JASNA for making today's workshop happen! And to Fanny Price -- for the inspiration!