Oh, the things an author learns during CCBC Book Week! For instance, I learned that May 4th is Star Wars Day because, as Finn, a student at Laurie Middle School in Cranbrook. BC, explained to me, "May 4th sounds like May the force!" And Finn even brandished (don't you LOVE the word "brandished"?) his light saber for one of today's pics. Check it out here!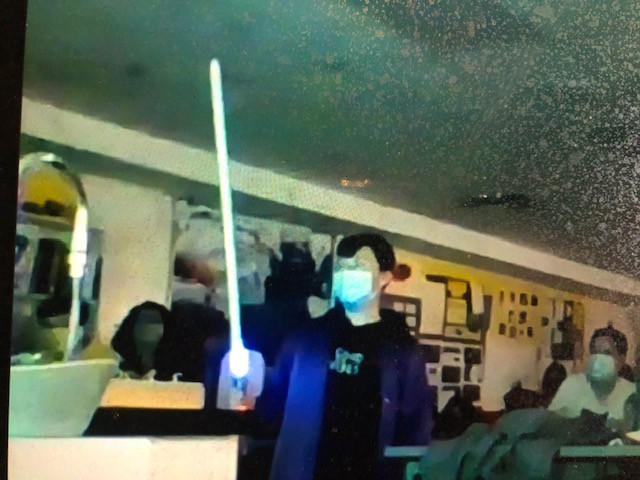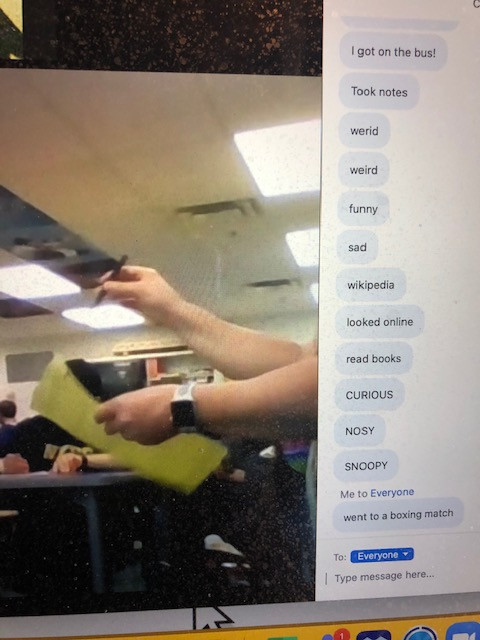 I started my day in Prince Albert, Saskatchewan, back at Ecole Arthur Pechey, and I ended the day in Cranbrook. (Okay, I didn't leave my house to do the visits, but we're in the middle of a pandemic, so CCBC Books Week has gone virtual!)
At Arthur Pechey, I worked with Grades Five and Six classes taught by Ms. Bender, Ms. Guenter, and Ms. Primeau. The students were awesome and funny too! When a student named Townsen came up to the screen, I mentioned his blue T-shirt. He told me, "It's not blue; it's grey!" which prompted me to say, "Don't get mad at me!" That little exchange gave us all a good laugh. Laughing isn't only fun -- humour is great in books too. Which is why I took a note of my conversation with Townsen, so that I could make you laugh while you read this blog entry!
I asked the kids if they'd ever met an author before. Jam (great name!! I love jam!!) said she had. "My auntie is an author. Jessica Stewart or Jessica Wallace. Or whatever her last name is!" That comment made me laugh too. And I wrote it down as an example of great dialogue. Dialogue helps us learn about character. You can tell from her words that Jam is funny and spunky. That's one of the reasons authors like me make a habit of listening in on people's conversations. So we can borrow/recycle/steal bits for our books!
In today's last pic, you'll meet Brooke, a student at Arthur Pechey. She asked me, "Have you ever written a comic book?" I had to tell the truth of course, that I hadn't. But I pointed out my hunch -- that Brooke wouldn't have asked the question if SHE HADN'T BEEN INTERESTED IN WRITING A COMIC BOOK HERSELF! And it turned out I was right. Brooke! Get to work!!
Now on to some details (writers love details because they help bring our stories to life) about my visit to Laurie Middle School. There, I worked with Ms. Pocha's lively Grade Eights. You already met Ethan. Many of these kids had read my books and prepared super questions for me. They were especially curious to know whether my novels for kids were based on true experiences. The answer was kind of complicated. Usually I start with something true -- for example that the kids who take the 121 bus in Montreal behave like monsters -- and then I add my favourite question: "What if?" What if I was a new kid at school, and didn't know where to sit on the bus... with the studious kids at the front, or the cool kids at the back. So I went ahead and prerhaps you've guessed it, I made the narrator of my book 121 Express sit in the middle!!
You have already seen a rather strange pic in today's collection. What are those two arms doing anyway? That happened when I asked Ms. Pocha's class, "What do you think I brought with me when I rode the real-life 121 Express bus?" They figured out the answer: paper and pen! In the pic, Ms. Pocha is answering by showing me her paper and pen. FUN!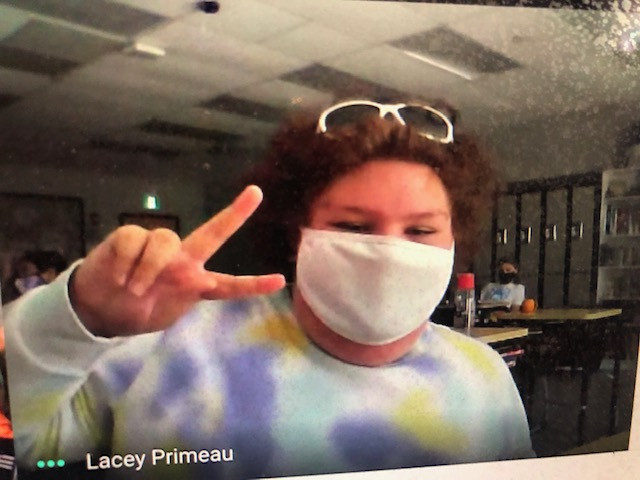 I warned all the students that after hanging out with me (even virtually), they'd likely need a long nap. But you know what? I'm not tired at all! In fact, it's nearly dinner time here in Montreal, and I'm revved up from CCBC Book Week and from having the chance to hang out with kids from Arthur Pechey and Laurie Middle School. Thanks to all of you for being good listeners and a fun audience; thanks to your teachers for sharing you guys with me. Thanks also to Arthur Pechey Vice Principal Ms. Gunville for helping get things organized; to the John M. Cuuelenaere Public Library in Prince Albert, for supporting one of my visits to Arthur Pechey; and to my friend Melanie Reavley for helping to organize the BC portion of this week's tour and for popping by to say hi!
I'll be back tomorrow, reporting on my visit to St. John's, Newfoundland! Yay for young readers and writers and CCBC Book Week!