My friend Constantina Kalimeris happens to be the illustrator of a lovely fable for all ages called The Apple in the Orchard.
I phoned Constantina (she lets me call her "Tina" and I let her call me "Mo"!) to ask her a little about the work she did to produce the illustrations for the book. To be honest, I was hoping that what she'd tell me about illustrating would have some overlap with the writing process -- and it did!
So here's what Constantina told me.
Like authors, illustrators, too, need to do a lot of research. "I spent about a month doing research on the anatomy of apple trees," Constantina said. For the book, she needed to illustrate three kinds of apple trees: a pale green, a red harvest, as well as orchard trees. I got very excited when Constantina explained, "I had to give them each a character." (The reason I got excited is that this is EXACTLY what authors have to do, too. What's a story without characters -- or in Constantina's case, trees -- who come alive?) In The Apple in the Orchard, Brave Apple can only grow by taking a risk and leaving Pale Green. Only then can Brave Apple join the thriving orchard.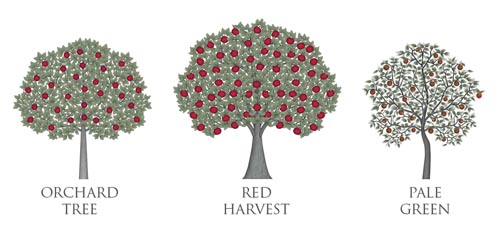 The Apple in the Orchard is self-published. Constantina worked closely with the book's author, Sonia Di Maulo, founder of Harvest Performance. I asked Constantina how she feels when she sees the finished product (I have a copy and it is a beautiful book). Here's her answer: "I feel a big sense of pride. It's my first book. Collaborating helped me evolve. But most of all, this book has defined my style."
If you want to have a look at the book, or order a copy, visit the link I've included at the top of this blog entry. Now I've got to go... writing this blog entry made me hungry for an APPLE!